Meat Grinders Made of Metal (Not Tin-Coated)
Many hand-operated meat grinders are made of cast iron that has been coated with tin, while others are made with zinc-coated (i.e. galvanized) cast iron. These coatings help protect cast iron from corrosion and rust. When processing meat in a food grinder, the food comes in contact with the coating only for a brief moment, leaving little time for heavy metals to leach into the meat, which is why tin-coated and galvanized cast iron food grinders are generally considered safe. If, however, you are losing sleep over whether those old-fashioned hand-crank meat grinders made of tin- or zinc-coated cast iron are really safe, you might want to consider getting a stainless steel meat grinder! Stainless steel is considered one of the safest surfaces for food preparation and storage.
If you are looking for a meat grinder that is not tin-coated, you also have the option of getting a grinder made of plastic, but plastic models are rarely as durable as meat grinders made of stainless steel, plus plastic kitchenware may contain Bisphenol-A (BPA), a harmful chemical that has been linked to all sorts of health problems.
Stainless steel meat grinders come in two types: manual and electric. Below, we take a look at one manual model and one electric model. The product details have been taken from the manufacturer's website and the product descriptions available on Amazon in January 2015. If you are thinking about purchasing one of these products, please read thoroughly the information on the respective product pages on Amazon (or contact the manufacturer directly) as some of the information, including price details, may have changed since this article was written.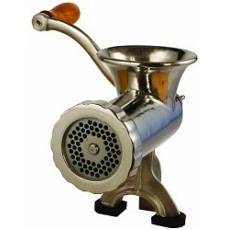 Manual Meat Grinder Made of Metal:
LEM Products' Stainless Steel Manual Grinder (#821)
The plates of this sturdy hand-crank stainless steel meat grinder have been hardened with high carbon steel. High carbon steel makes the plates extra-hard, ideal for a meat grinder, but it also has a downside: reduced rust resistance. To keep the plates looking like new, the manufacturer recommends using silicon spray after clean-up (also vegetable oil works fine in the short term).
This is a clamp-mounted model that can be secured to the countertop, provided that the countertop is not very thick. If the clamp does not open wide enough for your kitchen counter, you can try clamping the grinder to a piece of plywood and attach the plywood to the countertop with large C-clamps.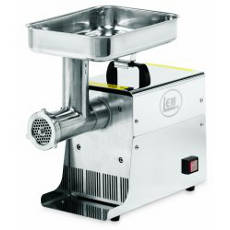 Electric Meat Grinder Made of Metal:
LEM Products' 0.35-HP Stainless Steel Meat Grinder
If you are a hunter or need a sturdy electric meat grinder for any other reason, check out LEM Products' 0.35-horsepower (HP) stainless steel meat grinder (model #779). This grinder is ideal for those who want to chop meat at home on a regular basis, and it comes with a range of accessories.
This electric meat grinder bears the ETL Listed Mark, which means that a representative sample of LEM Product's #779 meat grinders have been independently tested for compliance with North American safety standards.
Tip: If you already have a KitchenAid stand mixer at home, you might want to get one of the KitchenAid-compatible food grinder attachments (FGA's), instead of buying a separate meat grinder. Chef's Choice's 796 and 799 KitchenAid-compatible attachments come with stainless steel grinding plates and cutting blades, but if you're looking for an all-stainless steel FGA, check out Smokehouse Chef's stainless steel FGA for KitchenAid mixers.