Chef's Choice Meat Grinder Attachments: 796 vs 799 (for KitchenAid Mixers)
If you own a KitchenAid stand mixer and are looking for a meat grinder attachment that is compatible with your mixer, you're in luck. Several companies manufacture KitchenAid-compatible food and meat grinder attachments, so you'll have plenty of options to choose from if you don't want to get the standard plastic food grinder attachment (FGA) manufactured and sold by KitchenAid. Some of the most popular alternatives to the plastic attachment include Chef's Choice's 796 and 799 meat grinder attachments which have been specifically designed to fit all common KitchenAid stand mixers, including the Artisan and Professional models. But what exactly is the difference between the two Chef's Choice meat grinder attachments, the 796 model (aka 7965001) and the 799 model (aka 7995001)? Let's find out!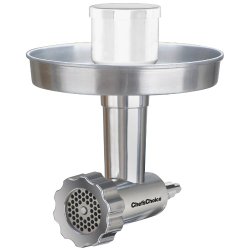 Chef's Choice food grinder attachment (FGA) No. 796, available through Amazon
Key Differences Between Chef's Choice 796 and 799 FGA's
Small differences in design
Both the 799 and 796 are made of stainless steel and aluminum, with the exception of the food pushers which are made of plastic (tip: if you're not a fan of aluminum, check out the all stainless steel meat grinder attachment for KitchenAid mixers manufactured by Smokehouse Chef). Now, despite the fact that the raw materials used to manufacture these two grinder attachment are essentially the same, the two models do look slightly different (see Comparison Chart below for pictures). However, these differences are small and probably not going to influence your decision on which one to buy, the Chef's Choice 799 or the 796.
Number of plates: two vs three
One of the key differences between Chef's Choice 796 and 799 meat grinder attachments is the number of grinder plates. The 796 or 7965001 model, which is typically cheaper, comes with two plates (medium and coarse), while the 799 model – also known as the 7995001 model – comes complete with three plates (medium, coarse and fine). The coarse grinding plate is great for grinding raw meats for burgers, meatloaf or meatballs; the medium plate is ideal for grinding meat for homemade sausages and bratwurst; and the fine plate is perfect for mincing and other fine grinding.
Country of manufacture: Eastern Europe vs China
Both models are produced by EdgeCraft, a Pennsylvania-based that has become famous for its popular Chef's Choice food slicers. However, the fact that the company is headquartered in Avondale, Pennsylvania, doesn't mean that all of their products are manufactured in the United States. Chef's Choice 799 meat grinder attachment, for example, has been manufactured in Eastern Europe, while the 796 has been manufactured in China (based on information retrieved from Wayfair's website in February 2015).
Comparison Chart: Differences at a Glance
If you still can't decide which Chef's Choice food grinder attachment to buy for your KitchenAid stand mixer, you might want to take a look at the following comparison chart which shows the key features of each in an easy-to-read format. To make this comparison even more useful, we've also included KitchenAid's own food grinder attachment, commonly known as the FGA.
Please note that while due care has been taken in compiling the information for the chart, it may contain errors and inaccuracies, plus some of the information may have become outdated. For latest information about the specifications of each product included in the chart below, please contact the manufacturer or seller directly.