All Stainless Steel Meat Grinder Attachment for KitchenAid Stand Mixers
While it's possible to grind meat in a food processor without any special equipment, buying a food grinder attachment (FGA) for your stand mixer may be a smart move if you plan on grinding meat on a regular basis. And, if you own a KitchenAid Artisan or Professional stand mixer, you'll have plenty of meat grinder attachments to choose from, including KitchenAid's own branded FGA, which is made of plastic, as well as a number of other attachments manufactured and sold by other companies like Chef's Choice and Smokehouse Chef. If you're looking for an all stainless steel meat grinder attachment for your KitchenAid mixer, you should definitely check out Smokehouse Chef's meat grinder attachment.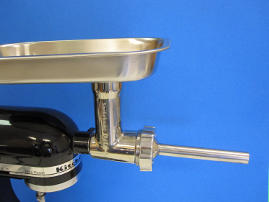 Smokehouse Chef's Meat Grinder Attachment for KitchenAid Mixers
Specifically designed to fit all KitchenAid countertop mixers, including the Artisan and Professional models, Smokehouse Chef's all-stainless steel meat grinder attachment is available on Amazon here. The attachment comes complete with separate meat grinder plates for fine, burger and course meat, as well as a sausage stuffer tube. The 6-inch long sausage tube is 3/4 inches in diameter, which makes it perfect for making juicy bratwursts and kielbasa sausages at home. This all-stainless steel attachment is dishwasher-safe, so also clean-up is a breeze.
Comparison: Smokehouse Chef vs. Chef's Choice vs. KitchenAid Attachments
The great thing about owning a popular brand-name stand mixer is that you'll be able to find plenty of attachments that are compatible with your machine. Some of the attachments have been designed by the owner of the brand, but many of them may have been designed and manufactured by other companies. In case of meat grinder attachments that fit KitchenAid stand mixers, there are three brands that frequently pop up: Smokehouse Chef, which we talked about above and which has created an all stainless steel FGA for KitchenAid stand mixers; EdgeCraft which manufactures aluminum FGAs with stainless steel plates under its Chef's Choice brand but which is perhaps better known for its Chef's Choice meat slicers than its FGAs; and of course, KitchenAid's own food grinder attachment.
The following comparison chart shows some of the key differences between these brands. Note that Chef's Choice actually has two food grinder attachments that are compatible with KitchenAid stand mixers; however, due to lack of space, the following chart only includes one of them. For more information about the two Chef's Choice models available, check out the separate article Chef's Choice Grinder Attachments: 796 vs.799.
| | Smokehouse Chef FGA | Chef's Choice FGA No. 799 | KitchenAid's own FGA |
| --- | --- | --- | --- |
| Amazon deal (in US$) | | | |
Smokehouse Chef FGA
Chef's Choice FGA No. 799
KitchenAid's own FGA
Compatible with
Artisan, Professional and other KitchenAid series
Artisan, Professional and other KitchenAid series
Artisan, Professional and other KitchenAid series
Main material
Stainless steel
Aluminum
Plastic
Grinder plates
Coarse
Medium
Fine
Coarse
Medium
Fine
Coarse
Fine
Sausage tube included
Yes
No
No
Buy/Info
Buy/Info
Buy/Info
Home-Ground Meat vs. Store-Bought Ground Beef
Above, we looked at some of the great options you have if you want to get a meat grinder attahment for your KitchenAid stand mixer. In the rest of this article, we look at the benefits of grinding meat at home, compared with buying pre-packaged ground beef at the grocery store.
1. Gain more control over the quality and origin of the meat. The pre-packaged ground meat sold at grocery stores or supermarkets is usually made from trimmings left over from more desirable cuts, and each serving of ground beef can contain meat from dozens or even hundreds of animals. By processing meat at home with a KitchenAid stand mixer equipped with a meat grinder attachment, you will have much more control over the type and origin of the meat.
2. Reduce the risk of bacterial contamination. Compared with a whole piece of meat, ground meat has a lot more surface area, which translates into an increased likelihood of the meat picking up pathogenic bacteria such as Salmonella, E. coli or Listeria during processing and handling. When grinding beef or poultry at home, the meat will only go through one machine, and you can cook it immediately after processing, thereby greatly reducing the risk of contamination with harmful bacteria.
3. Expand your food horizons beyond ground beef and pork. Chances are the selection of ground meat available at your local grocery store is limited to beef and pork. With a KitchenAid stand mixer equipped with a meat grinder attachment, you can grind everything from beef, pork and lamb to venison, poultry and fish!