Glass Muffin Cups – Durable and Non-Toxic
If you're worried about Teflon flakes getting into your muffins, it may be time to add glass muffin and cupcake cups to your baking repertoire! Although glass bakeware in general has been around for a very long time, much longer than any non-stick muffin trays, glass muffin cups are still somewhat of a novelty item. But as consumers continue to question the safety and durability of traditional non-stick bakeware, the demand for new types of glass bakeware – such as glass muffin cups, glass bundt pans or glass ring cake pans – may experience a real surge over the next years.
However, at the moment, finding dedicated glass muffin cups in regular stores may be difficult, even if you live in a big city like New York, Chicago or Los Angeles. But don't worry – if all else fails, you can always buy a glass muffin cup set on Amazon and have it shipped directly to your home! To learn more about this great option, keep reading.
Libbey's Cupcake & Muffin Cups Made of Glass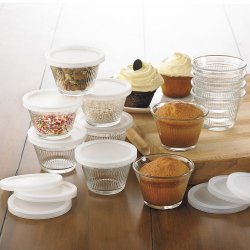 Meet Libbey's extra-cute cupcake and muffin cup set! It is not a non-stick muffin cup set as it's made of glass, so you'll have to grease the cups, but that's about the only downside! This set comes with 12 charming muffin ramekins made of heat-resistant glass, and there's a plastic lid included for each cup, so you can also use them for storing foods as well. And, as glass is non-reactive and naturally BPA-free and PFOA-free, you'll never have to worry about your muffins or cupcakes absorbing nasty flavors or potentially toxic chemicals when they bake up in the oven! Considering what you get, you might expect this set comes with a hefty price tag, but you'll be in for a treat! For more detailed information, check out the current price and reviews for this product on Amazon.
Other Non-Teflon Muffin and Cupcake Cups
When it comes to non-toxic muffin cups, glass muffin cups are definitely right there on top of the list as glass has been around for a long time and it's naturally non-reactive. But glass has one major downside: it can break relatively easily. If that's an issue for you but you would still like to have muffin cups that are free of controversial chemicals, you might want to get a good, seasoned cast iron muffin tin (of "muffin tray" if you're from the UK). Real cast iron won't leach any unpronounceable chemicals into your food; that said, it may release tiny amounts of iron, a trace mineral that's needed for the proper functioning of the body.
And then there are the silicone muffin molds. Although silicone bakeware is generally considered safe, some people have complained about certain silicone molds imparting a funny smell and taste to baked goods. Plus, some silicone molds contain fillers that in turn may contain BPA (Bisphenol-A) and other controversial chemicals. What's more, silicone is a relatively new material, which means its non-toxicity and safety have not been tested as extensively as those of glass and cast iron which have been around for millennia!
Sponsored Links / Ads
Don't Miss This

Meet the New Silicone-Wrapped Glass Beverages Bottles
Silicone-wrapped glass water bottles are all the rage among health-conscious consumers.
More Cool Products