Glass Tube Cake Pans (for Ring Cakes Etc.)
Glass cookware is making a bit of a comeback as home cooks wary of Teflon-coated products are tossing out their old non-stick pans and pots. However, if you're into baking, finding glass cake pans may turn out to be more difficult than you might have expected – that is, if you need something beyond the classic glass pie plates. Finding a ring or tube cake pan made of glass in a regular store, for example, may turn out to be quite a challenge, even if you live in a big city like New York or Los Angeles.
Now that's where the online retailer Amazon comes to the rescue! With a few clicks and a credit card, you can buy a glass ring cake pan and have it shipped directly to your home. In this article, we talk more about this beautiful round cake pan created by Libbey, a leading global manufacturer and marketer of glassware with a history that dates back to 1818. But first, let's take a quick look at the benefits of using glass cake pans in general.
Glass bakeware has many benefits
Glass is recyclable, odorless and it won't taint the food it comes in contact with a plasticky or metallic taste. Glass is also naturally free of controversial chemicals like BPA, which is found in many plastic products, and PFOA which is used in the manufacturing process for Teflon/PTFE-coated non-stick cookware. Some experts are worried excessive exposure to BPA may lead to health issues due to its ability to affect the human hormonal system, while PFOA has been shown to promote the development of certain types of tumors in laboratory animals. When released into the air, PFOA fumes have also been shown to kill birds and to cause people to develop strange flu-like symptoms.
However, the FDA continues to allow the use of these chemicals in kitchenware suggesting that there is no scientifically significant evidence showing that normal use of products containing these chemicals poses a health risk. However, despite the FDA's stand, there's growing consumer concern over the safety of these chemicals, and many wary consumers have decided to switch to cookware and kitchen tools that are free of BPA, PTFE and PFOA.
Meet Libbey's ring cake pan made of glass!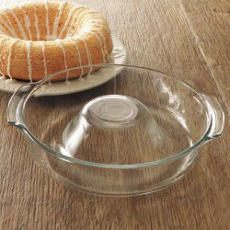 With its no-nonsense design, Libbey's simple glass ring cake pan produces elegant ring cakes perfect for special occasions, or when you just want to treat your loved ones to a homemade sweet treat. As it is made of transparent glass, you can monitor the progress of your ring cake when it bakes up in the oven. And, as glass is non- reactive, you don't to worry about your cake absorbing unpleasant plasticky or metallic flavors. On the downside, Libbey's ring cake pan (like all other baking dishes made of glass) are not non-stick, so you'll always have to grease the bottom and the sides of the dish before pouring in the batter – But that's a small price to pay for a durable and naturally BPA-free and PTFE-free baking dish! You can buy this glass pan through Amazon here.
P.S. There are also options for those who need a bigger (taller) tube pan
Libbey's ring cake pan is 10 1/4 inches in diameter, but in terms of capacity, it's relatively small (due to the low sides). If you're looking for a bigger (i.e. higher) tube pan to make bundt-style cakes, check out our article about the larger bundt pans (also made of glass).
Don't Miss This

Silicone-Wrapped Glass Bottles: Durable and Non-Toxic
Silicone-wrapped glass water bottles are all the rage among health-conscious consumers.
More to Explore
Book You May Like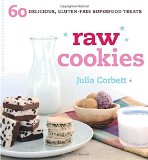 Who says cookies have to be unhealthy? In
Raw Cookies
, dessert chef and raw food educator Julia Corbett shares
60 exciting recipes for healthlicious cookies
that are devoid of gluten, but not of flavor or nutrients! Julia's easy-to-follow recipes feature health food staples like common nuts and fruits, as well as exotic "superfoods" like chia seeds, camu camu and lucuma. Complete with beautiful full-color photography, this inspiring recipe book is available from

Amazon.com
,

Amazon.ca
and

Amazon.co.uk
.