In the Spotlight:
Silicone-Wrapped Glass Bottles (Both Cheap and Pricier Models Covered)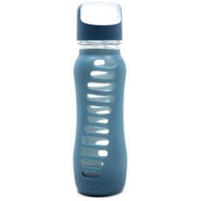 Silicone-wrapped glass water bottles are all the rage among eco-minded and health-conscious consumers who are looking for non-plastic water bottles, and for good reason: glass is recyclable and naturally free from controversial chemicals such as BPA (Bisphenol-A), phthalates, PFOA and PTFE. It is also odorless, and the liquids and foods that come in contact with it won't be tainted with an unpleasant plasticky or metallic smell or taste. And because these new-generation water bottles are covered with a protective silicone sleeve, they are durable and portable – perfect to take to the gym, office or school! And the best part is, silicone-covered glass bottles are today available in all price ranges, from cheaper standard bottles to more elaborate designs. Below we take a look at some of these trendy eco-friendly products, including a couple of bottles that are also available in the UK and Canada.
Disclosure: This page contains affiliate links, which means that if you use any of those links to buy a water bottle with a silicone sleeve – or another product for that matter – that matter using those links, the author of this article may receive a small commission (without any extra cost on your part, of course).
3 Silicone-Encased Water Bottles Definitely Worth Checking Out

Lifefactory's Flip Cap Bottle
Lifefactory is arguably one of the most famous manufacturers of silicone-wrapped glass water bottles and other silicone-coated products, including the trendy silicone-protected glass lunch boxes you may have already spotted in some stores. Lifefactory's 22-ounce and 16-ounce water bottles may not be the cheapest silicone-wrapped glass bottles out there, but they come with handy flip caps, which is something you should not take for granted when shopping for a silicone-wrapped beverage bottle. Plus, these stylish and functional bottles have got loads of great reviews on Amazon. And, in case price is a concern for you, you could still check out their 9-ounce silicone-covered water bottle with a flat screw-on lid which may be substantially cheaper than their bigger (and fancier) bottles.

Get it here

Get it here

Get it here

EcoVessel's Surf Glass Bottle
Based in Boulder, Colorado, EcoVessel offers a diverse line of reusable water bottles for adults, kids, and toddlers. In addition to affordable silicone-covered glass bottles, they sell stainless steel beverage bottles which – just like glass counterparts – are naturally free of BPA and phthalates. Designed to fit most cup holders, EcoVessel's silicone-encased Surf Glass bottles come in a variety of attractive colors, including pink, black, orange and two different shades of blue. Note, though, that the color options may be more limited if you live in the UK or Canada.

Buy it here

Buy it here

Buy it here

Ello's Carry-Loop Cap Bottle
Ello Products specializes in BPA-free beverage bottles and containers, and their silicone-encased Ello Pure glass water bottle has already received tons of great reviews on Amazon. According to a number of reviewers, this product is durable and great value for money, but there's more to it than just a sturdy construction and an attractice price: this portable bottle also features a practical top handle that makes it easy to carry around as well as a leak-proof screw-on cap. What's more, the whole bottle is dishwasher-safe and you don't even have to remove the protective silicone jacket before popping your bottle into the dishwasher!

Get it here

Get it here
Comparison: Lifefactory vs EcoVessel vs Ello Products
Lifefactory's Flip Cap Bottle
EcoVessel's Surf Glass Bottle's
Ello's Carry-Loop Cap Bottle
Amazon.com deal 1
Cap/lid type
Flip cap
Screw-on lid
Screw-on lid
Carrying loop
Yes
Yes
Yes
Size options 2
12 oz, 16 oz, 22 oz
22 oz
20 oz
Color options 2
Green, blue, turquoise, pink, red, gray, purple, etc.
Turquoise, black, orange, pink, gray-blue
Gray, pink, teal, etc.
Country of manufacture 3
USA, France
China
n/a
Details (user reviews, price info, etc)
Click here
Click here
Click here
Click here
Click here
Click here
Click here
Click here
1 Current price on Amazon.com in US$. The price of the product in your local Amazon store (e.g. Amazon.co.uk or Amazon.ca) may be substantially different. To view the current prices on Amazon's Canadian or UK stores, use the appropriate "Click here" links provided in the chart above.
2 Some of the size and/or color options may be unavailable at your local Amazon store
3 Based on information provided on the supplier or manufacturer's website in January 2015; to confirm whether the information is still valid, please contact the seller/manufacturer directly