Cast Iron Pie Pan (Round-Shaped Dish)
If you think cast iron is just for frying pans and Dutch ovens, there's a whole new world for you to discover. Cast iron can be used to make all sorts of cookware and bakeware, including traditional round-shaped pie pans! And, as many consumers across the US and Canada are questioning the safety of PTFE-coated non-stick bakeware, the demand for other types of bakeware – such as cast iron pie pans – is growing. However, at the moment, finding a store that sells round cast iron pie pans specifically designed for baking pies or tarts can still be relatively difficult, even if you live in a major city like New York, Toronto or Los Angeles.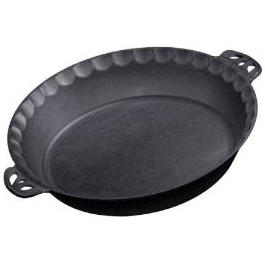 Where to Find a Seasoned Cast Iron Pie Dish (in the US or Canada)?
Now, if you have no luck in finding one of these gems in the regular stores in your area, don't despair – you can always enter the wonderful world of online shopping! The online retail giant Amazon, for example, sells Camp Chef's seasoned iron cast pie pan here (

for American customers) and here (

for Canadian customers who want to make their purchases through the retailer's Canadian site). Made of real cast iron, Camp Chef's pie dish creates even heat distribution giving your pies and tarts a beautiful golden brown crust. About 10 inches in diameter, this pie dish comes with a wavy, fluted rim and decorative handles.
Why You Should Consider Getting One
So far we've provided tips on where to buy a real cast iron pie pan in the US or Canada; in the rest of this article, we'll be discussing why you should consider getting one.
One of the perhaps most important benefits of using a cast iron pie pan in place of a PTFE-coated non-stick pie dish is that you avoid exposure to controversial chemicals like PFOA (perfluorooctanoic acid) which, when overheated, may release toxic fumes that have been shown to kill birds and cause flu-like symptoms in humans. The only thing a cast iron pan can release is tiny amounts of iron into your food, which can actually be a good thing since many women, including women living in the US and Canada, are deficient in iron. The human body needs iron to make hemoglobin which carries oxygen from the lungs to the rest of the body.
Potential health benefits aside, cast iron pie pans are also sturdy and durable, and with a proper care – which involves keeping your pans clean, dry, and seasoned – your bakeware can easily serve your family for generations. This, along with the other benefits described above, of course also applies to other high quality cast iron bakeware, including cast iron mini cake / tartlet pans and cast iron muffin tins and trays.
On the downside, cast iron bakeware is relatively heavy. If that's an problem for you but you still want a tart or pie dish that doesn't contain unnatural substances like PTFE and PFOA, you might want get a glass pie plate instead. Another disadvantage of using an cast iron pie pan is that you have to keep it seasoned, which takes some time, but that's a small price to pay for a non-toxic baking dish that can serve your family for years!
Sponsored Links / Ads
Don't Miss This

Meet the New Glass Water Bottles with Silicone Sleeves
Silicone-encased glass water bottles are all the rage among health-conscious consumers.
More Cool Products