Mini Cake and Tartlet Pans Made of Cast Iron
Are you on the lookout for the perfect pan to make mini-sized pastries? How about a pan that's durable and safe, and that will give those petite pies and tiny tartlets a perfect golden crust? If that sounds like your deal, then mini cake pans made of cast iron might be the way to go! These little cake/tart pans are about as durable as they come, they won't leach chemicals with unpronounceable names into your cakes and pies, and their ability to distribute heat evenly helps make sure your darling tartlets will brown evenly.
However, finding small cast iron cake pans that ideal for making tartlets and other miniature pastries may prove to be way more difficult than you ever imagined, even if you in a major city like New York, Los Angeles, Chicago or Toronto. But don't despair if you return home empty-handed from your shopping trip – you can always resort to World Wide Web! The online retail giant Amazon, for example, sells

this cast iron mini pastry pan on Amazon.com, its main website (learn more about this and other similar products below). And those living in Canada might want to check out

this cast iron mini pastry pan on Amazon.ca, the retailer's Canadian site.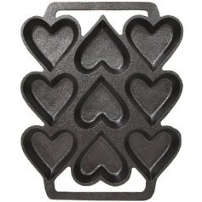 For Those Darling Little Tartlets and Cakelets
Heart-Shaped Mini Cake Pan
This gorgeous cast iron pan with dainty heart-shaped cups is perfect for making everything from petite pies to cute cookies to tiny tarts! You can use it both for sweet and savory pastries and cookies, and with proper seasoning cakes and cookies come out of the pan easily. This dish measures about 9" x 7.5", and each heart shape is roughly 2.5" in width and length. Did this little pastry and cookie pan win over your heart? You can buy it through Amazon here.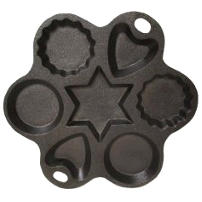 Multi-Shape Mini Tart Dish
This multi-shape pan has regular round cups, cute heart-shaped cups, a single star-shaped cup, as well as round fluted cups which are perfect if you want to make tartlets with classic fluted sides. Each shape is around two to three inches in diameter. Like the heart-themed pan above, this dish is made of cast iron, which means it has great potential to serve your family for decades, provided that you keep it clean, dry and well seasoned. If you think this gem belongs in your kitchen, buy it through Amazon here.
When "Small" Doesn't Fit the Bill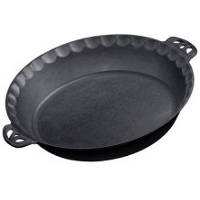 Above we took a look at cast iron pans that are ideal for making small cakes, tarts and cookies – but what if you need a cast iron pan for bigger pies? Not to worry, Amazon has it all! Camp Chef's pie pan is 10 inches in diameter, and it has a beautiful scalloped edge and cute little decorative handles. Made of seasoned cast iron, this sturdy pan distributes heat evenly, giving your pies and tarts a beautiful golden brown crust. This pan is available on Amazon here.
Sponsored Links / Ads
Book You May Like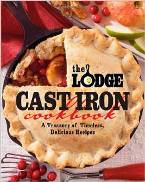 In response to the rising popularity of cast-iron cookware,
Lodge
has put together an impressive collection of over 200 recipes for your cast-iron skillets and pans. Culled from cooks across America, the recipes cover everything from breakfast dishes and soups to biscuits and baked goods, and each recipe is accompanied by a four-color photograph.

Check it out on Amazon