Breville Smart Scoop Ice Cream and Sorbet Maker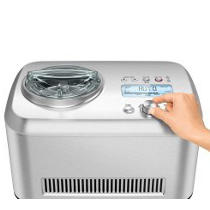 Making creamy ice cream at home has never been easier. Just add your favorite ice cream, gelato, sorbet or frozen yogurt ingredients to the mixing bowl, and the Breville Smart Scoop Ice Cream Maker will do the hard work for you. Also known as the Breville BCI600XL, this self-freezing ice cream maker has a built-in freezer, so there's no need to pre-freeze the mixing bowl beforehand, which means the machine is always ready to go! This ice cream, sorbet and frozen yogurt maker also comes with a built-in timer and a sound alert which lets you when your frozen dessert is ready to be scooped out and eaten. In addition, it has a keep-cool feature which keeps your dessert at a constant temperature until it's time to serve. If you live in North America, you can buy the Breville BCI600XL Smart Coop here (

US shoppers) or here (

Canadian customers). In the UK, the Smart Coop is sold here

under the Breville Group's UK brand name, Sage by Heston Blumenthal.
Breville BCI600XL – A Self-Freezing Frozen Dessert Maker
Unlike many of the cheaper ice cream makers out there, the Breville Smart Scoop Ice Cream Maker is equipped with a self-freezing compressor which means you won't have to pre-freeze the mixing bowl before making a batch of ice cream – great if you don't have much space in your freezer! All you need to do is add the ingredients to the removable mixing bowl, lock the lid into place and press a few buttons, and you will have smooth, homemade ice cream or Italian-style gelato in less than an hour. This ingenious ice cream maker also has a keep-cool feature which will keep your dessert chilled and churned for up to three hours in total.
Yummy Recipes Included in the User Manual
There are tons of exciting ice cream, gelato, sorbet and frozen yogurt recipes for the Breville BCI600XL in the user manual which you should receive when you buy the machine new. Here are some examples of the mouthwatering recipes you'll find in the user manual:
Ice Cream
Gelato
Sorbet
Frozen Yogurt

Basic Vanilla
Rich Chocolate
Quick Mix Vanilla
Strawberry
Apple Crumble
Salted Caramel
Cookies and Cream

Pistachio
Chocolate Hazelnut
Espresso
Mint Chocolate
Creamy Mango
Mica's Coconut

Red Grapefruit
Lemon
Pear and Vanilla
Raspberry

Quick Recipe
Banana
Berry
Lemon Honey
See-Through Lid with a Flip-Back Window
The Breville Smart Scoop Ice Cream and Sorbet Maker has a clear plastic lid so you will be able to watch your favorite ingredients turn into a wonderful frozen dessert inside the machine. The lid also has a little flip-back window which allows you to add mix-ins, such as fresh fruit, nuts or chocolate chips, without interrupting the mixing/freezing cycle. To make things even easier for you, this automatic ice cream maker will beep and "Add Mix-Ins" will flash on the screen to let you know when it is the right time to add the mix-ins.
Removable Mixing Bowl for Easy Clean-Up
After making a batch of your favorite frozen dessert – be it ice cream, gelato, sorbet or frozen yogurt – simply remove the anodized mixing bowl from the bowl chamber, clean it gently with soapy water, and rinse thoroughly. While the mixing bowl is not dishwasher-safe, the paddle can be washed in the dishwasher, provided that you place it on the top rack.
Where to Buy?
So you think the Breville Smart Scoop Ice Cream and Sorbet Maker might be the perfect choice for you and your family? If you live in the US, Canada or the UK, you can order the Breville BCI600XL through the following affiliate links and have it shipped directly to your home address (keep in mind that in the UK the Smart Coop is sold under the Breville Group's UK brand name, Sage by Heston Blumenthal):