Healthy Frozen Dessert Ideas (Vegan and Dairy-Free Recipes)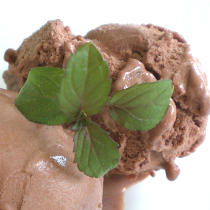 Sure, ice cream tastes great, but unfortunately it is not exactly the healthiest dessert out there. Especially store-bought ice cream – which is typically packed with fat, sugar and unnatural additives – can wreck your weight loss efforts and cause all sorts of health problems if you eat it regularly. Getting an automatic ice cream and sorbet maker, such as one of the popular Cuisinart or Breville ice cream makers, can solve part of the problem as you will be in control of what goes into your frozen dessert, and with a good cookbook featuring healthy ice cream recipes, you can easily create all-natural, additive-free ice cream with a reduced fat and sugar content.
Need a book featuring healthy, dairy-free ice cream recipes? Check out Ben Hirshberg's brilliant Paleo Ice Cream which is packed with exciting paleo-friendly ice cream recipes that are free of dairy, starches and processed sugars. From classic standbys like chocolate, strawberry, and vanilla – to adventurous flavor combinations like cherry vanilla, coconut chocolate and cucumber mint – the inspiring book is packed with recipes you'll want to try no matter what diet you are on.
But there's also an alternative way to get healthier frozen desserts on the table: get one of the dedicated frozen fruit dessert makers, such as the popular Yonanas Classic or Elite, and you'll be able to make low-calorie, dairy-free, gluten-free frozen treats in seconds! And the best thing is, your guilt-free, all-natural desserts (typically 100% fruit-based) will provide your body with tons of vitamins and antioxidants that promote health and fight disease.
How to Make 100% Fruit-Based Frozen Desserts
Yonanas, Magic Bullet's Dessert Bullet, Big Boss' Swirlio and most of the other dedicated frozen fruit dessert makers work their magic the same way: they squash frozen bananas and other frozen fruits to turn them into non-dairy soft serve that looks and feels just like real ice cream. While it's also possible to make 100% fruit-based "mock ice cream" in a blender or food processor, Yonanas and Dessert Bullet proponents often claim that you won't be able to achieve the same ice cream like texture and consistency if you use a food processor or blender, plus it may take minutes to process the frozen fruit, whereas the Dessert Bullet and Yonanas get the job done in seconds. For more on this, see Yonanas vs Blender vs Food Processor.
To create a batch of all-natural, dairy-free soft serve using the Dessert Bullet, Yonanas or Swirlio, all you need to do is follow these three simple steps:
Peel and dice over-ripe bananas and other fruits, and freeze them for at least 24 hours. For ideas on what fruits to use, check out the chart below.
Thaw the frozen fruit for about 5 to 10 minutes.
Place a bowl under the dispenser, and turn on your Yonanas, Dessert Bullet or Swirlio. Feed the slightly thawed fruit pieces into the chute, alternating between bananas and the other fruits. Use the plunger provided to push the frozen fruit through the chute.
Need Ideas for Recipes? Check Out These Flavor Combos
Are you running out of ideas on what to make with your Yonanas Maker or Dessert Bullet? Whether you are looking for traditional banana-based frozen fruit treats or healthy no-banana recipes for your Dessert Bullet or Yonanas, the following flavor combinations should give you plenty of ideas on how to make the most out of your frozen dessert maker, while expanding your culinary horizons. Note that all the fruits and berries included in the chart below should be rinsed, peeled and cored, as needed, and frozen for at least 24 hours. Fruits should also be diced or broken into chunks before freezing. Spices, flavorings and other non-fruit/non-berry ingredients should not be frozen, but you should combine them in a bowl with the frozen fruit pieces before sending everything through the machine.
Banana-Based Recipes (Dairy-Free, Vegan)
The most basic recipe for vegan, dairy-free mock ice cream only calls for one ingredient: frozen, ideally over-ripe, bananas. When squashed or pureed, frozen bananas turn into a smooth, creamy dessert that looks and feels a lot like real ice cream. However, this one-ingredient mock ice cream may bore your taste buds after a while, so you might want to experiment combining bananas with other fruits to create healthy frozen desserts that are both creamy and flavorful. Good flavor combinations include:
Banana + Vegan Chocolate & Hazelnut Spread
Banana + Vegan Dark Chocolate
Banana + Peanut Butter + Vegan Dark Chocolate
Banana + Cherries + Vegan Dark Chocolate
Banana + Vegan Cacao Powder
Banana + Dark Chocolate (top with coconut flakes)
Banana + Raspberries (garnish with pomegranate seeds)
Banana + Raspberries
Banana + Apple (top with chopped walnuts)
Banana + Blueberries
Banana + Cherries
Banana + Cinnamon
Banana + Blackberries + Vanilla Extract
Banana + Vegan Hazelnut Spread + Coconut Milk + Vanilla Extract
Banana + Apple + Cinnamon
Banana + Peach + Raspberries
Banana + Pineapple + Cherries
Banana + Orange + Cranberries
Banana + Grapes + Grapefruit
Banana + Cranberries + Raspberries
Banana + Avocado + Green Grapes + Lime
No-Banana Recipes (Dairy-Free, Vegan)
While dairy-free mock ice cream is traditionally made with frozen bananas, there's no reason why you couldn't make it without bananas. If you decide to skip the bananas, the result will be more sorbet-like, and less creamy. Here are some ideas for flavor combinations you might want to try that can help you develop your own favorite no-banana recipes for your Yonanas, Dessert Bullet or Swirlio:
Blueberries + Strawberries + Raspberries
Blueberries + Strawberries + Blackberries
Blueberries + Raspberries + Coconut Flakes
Kiwifruit + Green Grapes
Pineapple + Apple
Pineapple + Strawberries
Orange + Grapefruit
Mango + Kiwifruit
Mango + Avocado
Mango + Raspberries
Mango + Pineapple
Watermelon + Honeydew Melon
Watermelon + Blueberries
Peach + Raspberries
Peach + Strawberries
Peach + Cherries
Sponsored Links / Ads
Don't Miss This

10 Cookbooks Packed with Healthy Kale-Focused Recipes
Need ideas on how to incorporate kale into your diet? Then check out these books.
Cool Products