Tribest Sedona Combo Dehydrator (SD-P9150 and SD-S9150)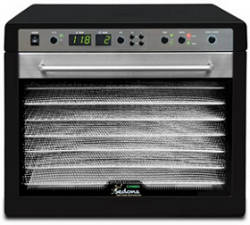 The Tribest Sedona Combo Dehydrator has a variety of features that make this high-end food dehydrator a good choice for raw food enthusiasts, backyard homesteaders, sportsmen and families who want to preserve seasonal foods for use later in the year or to prepare healthy, all-natural snacks. In this article, we review some of the most interesting features of this countertop dehydrator.
Key Features of SD-P9150 and SD-S9150
Stainless Steel Trays (S9150) or BPA-Free Plastic Trays (P9150)
The SD-S9150 comes with nine stainless steel trays, while the SD-P9150 comes with nine BPA-free plastic trays. As plastic is cheaper than high-quality stainless steel, the SD-P9150 usually carries a lower price tag, but sometimes you see also good deals on the SD-S9150 model. Note that both models have a BPA-free plastic body (the door is glass, though).
Adjustable Thermostat
Temperature control is a key factor in getting successful results with any food dehydrator. Using too little heat may result in fermented or spoiled food, while too much heat can destroy health-promoting enzymes and nutrients in raw foods. Unlike some cheaper dehydrators on the market, both the SD-P9150 and the SD-S9150 come with an adjustable thermostat which allows you to set the drying temperature (as long as you stay within the 85°F to 155°F range).
99-Hour Timer with Automatic Shut-Off Function
A built-in timer allows you to set your dehydrator to run for a specific amount of time, and once the time is up, the appliance will automatically shut itself off. Both of the Tribest Sedona Combo Dehydrators come with a built-in timer with a maximum setting of 99 hours, while many other popular dehydrators (including most Excalibur models) have a maximum setting of 26 hours.
Two-Stage Sequential Temperature Timer
One of the most exciting features of the Tribest Sedona Combo Dehydrators is their Two-Stage Sequential Temperature Timer, or TST, which lowers the time needed to dehydrate foods and prevents foods with a high water content from fermenting. Thanks to this neat feature, you can program your Tribest Sedona Combo to start at a specific temperature to kick start the dehydration process (FAST mode), and the machine will then switch to a lower temperature of your choice (RAW mode) to finish off the job.
Quiet, Efficient Operation Thanks to Dual Fan Technology
The Tribest Sedona Combo Dehydrators come with two independent 300-watt fan and heater sets which can be set to operate independently or simultaneously. This means that when you want to dehydrate a smaller batch of food, you can switch off one of the sets, and the machine you use less energy and create less noise. The dual fan technology is also great when you want to use the entire machine because two simultaneously operating fans distribute air more evenly than a single fan.
Key Features at Glance
SD-P9150
SD-S9150
Amazon.com deal (price in US$)
Trays
BPA-free plastic
Stainless steel
Number of trays
9
9
Number of fans
2
2
Drying space
ca. 12.5 sq. ft.
ca. 12.5 sq. ft.
Housing
Plastic
Plastic
Door
Glass
Glass
Tray size
15.25" x 13"
15.25" x 13"
Timer, max. setting
99 hours
99 hours
Timer, two-stage
Yes
Yes
Thermostat
85°F to 155°F
85°F to 155°F
Wattage
600
600
More info
Click here
Click here
Click here
Click here