Horizontal-Flow Dehydrators: Reviews & Comparisons
Shelf-style dehydrators with horizontal air flow have many advantages over models that provide vertical air flow. But when it comes to choosing the best horizontal-flow dehydrator, how do you know which model to pick? Here, HealWithFood.org helps you see through the process of selecting a horizontal-flow dehydrator by providing tips, reviews and comparisons.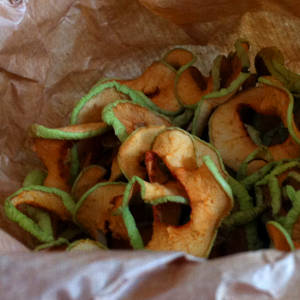 There are tons of different reasons why many people think shelf-style dehydrators with horizontal airflow are the best. First, these types of dehydrators have the fan in the back of the unit, which means warm air will be evenly distributed across the trays, and you won't have to rotate the trays. A back-mounted fan also means there is no risk of drippings from your foods soiling the fan.
What's more, as each tray pulls out individually, just like the trays in your oven, you can easily access the food when you want to check on or remove pieces during the drying process. Yet another benefit is that you will also be able to dry longer strips of food, which may be difficult with vertical-flow dehydrators which have round trays with a large hole in the middle of each tray. And, finally, many horizontal-flow dehydrators today come with stainless steel trays, which is great for those who don't want their food to be in contact with plastic.
So, to recap, there are many reasons to love these smartly designed dehydrators. But when it comes to choosing the best horizontal-flow dehydrator, how do you know which model to go for? Below you'll find a list of factors to consider when trying to find the best dehydrator with horizontal airflow for you and your family, as well as a handy comparison chart highlighting some of the key features of a number of popular horizontal-flow dehydrators side-by-side. Also included are links to dehydrator reviews and comparisons, which allow you learn more about the pros and cons of specific models.
How to Pick the Best Horizontal-Flow Dehydrator
With so many brands and models on the market, it can be difficult to know which horizontal-flow dehydrator you should buy. Here are some factors you may want to consider when trying to figure which model is the right choice for you:
Drying space: Unlike most vertical-flow dehydrators, horizontal-flow dehydrators are not expandable, which means you won't be able to expand their drying capacity by buying more trays to stack on top. Therefore, you should think about how much food you want to be able to dehydrate at once when shopping for a dehydrator with horizontal air flow. It is also important to look at the actual drying space rather than the number of trays as some models have smaller trays than others.
Thermostat and timer: The best horizontal-flow dehydrators have an adjustable thermostat with a broad temperature range. The option to set the temperature is important because different types of foods have different optimum drying temperatures. Some models also come with a built-in timer with an automatic shut-off function which is a nice feature if you tend to forget things.
Tray material: Some models have stainless steel trays, while others come with plastic trays (you can find reviews of dehydrators with stainless steel trays in this Guide to Non-Toxic Kitchen Appliances). As plastic is cheaper than high-quality stainless steel, models with stainless steel trays usually carry higher price tags.
Unit dimensions: Because they are square or rectangular rather than cylinder-shaped, horizontal-flow dehydrators make efficient use of countertop and cabinet space. However, if your countertop and storage space is limited, you should also consider the size of the machine you're thinking about buying. The good news is that these types of dehydrators come in many sizes, so everyone should be able to find something that fits their kitchen.
Price: Finally, consider all the factors against the price and choose the model that you think will give you the best value for your money.
Chart: Comparison of Popular Models (+ Links to Reviews)
| Dehydrator | Drying space | Number of trays | Timer | Adjustable thermostat | Review |
| --- | --- | --- | --- | --- | --- |
| Magic Mill Pro (MFD-6100) | 6.5 sq. ft. | 6 | yes | yes | Review |
| Tribest Sedona Express | 10 sq. ft. | 11 | yes | yes | Review |
| Tribest Sedona Combo | 12.5 sq. ft. | 9 | yes | yes | Review |
| Tribest Sedona Classic | 12.5 sq. ft. | 9 | yes | yes | Review |
| Excalibur 9-Tray Dehydrator | 14 sq. ft. | 9 | yes/no | yes | Review |
| Excalibur EXC10EL | 16 sq. ft. | 10 | yes | yes | Review |
| TSM D-10 Dehydrator | 16 sq. ft. | 10 | yes/no | yes | Review |
More Comparisons of Horizontal-Flow Dehydrators