Ingenious Kitchen Accessories
Jumbo the Elephant Cutlery Drainer by Peleg Design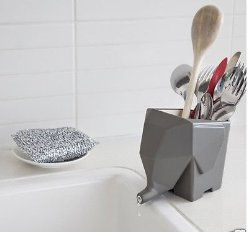 Stocking your kitchen with smart accessories can save you time, money and sanity. If you are on a mission to smarten up your kitchen, make sure you check out Peleg Design's Jumbo Cutlery Drainer. Available from the online retailer Amazon and in select stores in countries like the US and UK, this cutlery draining elephant drains excess water from your wet cutlery through its trunk. And, when you place the elephant caddy right next to your kitchen sink, all excess water will drain straight into the sink. Now, that's a pretty ingenious little elephant, don't you think?
Available in the US and UK in Cream-White or Gray Plastic
Designed in Israel by Peleg Design (read more about this innovative design company below), this elephant-shaped cutlery drainer is available in the US and UK in cream-white or gray plastic. Peleg Design's products, including their Jumbo Cutlery Drainer, are sold in selected gift shops and museum stores, but if you have no time to look for the Jumbo in the stores, you can also buy it online through Amazon's main site, as well as through its UK site (see links below). All you need is a valid credit card, and within a few clicks this cute sink-side elephant can be on its way to your home! To order the Jumbo Cutlery Drainer through the online retailer Amazon, use the following affiliate links and you will also be supporting this site, while benefiting from Amazon's great prices:
Peleg Design – Functionality, Humor and Aesthetics
Peleg Design – the Israeli company behind the Jumbo, the original elephant cutlery drainer – was founded in 2004 by Shahar Peleg who holds a degree in design and interior architecture from the Holon Institute of Technology. Since the founding of the company, Peleg's products have appeared at several international exhibitions and have won prestigious design prizes around the world, and you can today buy Peleg's products in dozens of countries across the world (not just in North America and the UK).
The key to the company's success probably lies in its commitment to developing products that are functional, funny and pleasing to the eye. Peleg Design's commitment to these three principles – functionality, humor and aesthetics – is also evident if you look at the Jumbo Drainer. First, this elephant-shaped cutlery caddy is arguably one of the most functional cutlery drainers out there as it allows excess water to drip directly into the sink. Second, the fact that Peleg decided to create its self-draining cutlery caddy in the shape of an animal, in this case an elephant, ups the fun factor. And finally, as far as beauty and aesthetics are concerned, it is certainly hard to imagine a more elegant plastic elephant!
Tip: If you already have a good cutlery caddy for your knives, forks and spoons, you can also use Peleg's Jumbo as a self-draining toothbrush mug in the bathroom. Simply put your toothbrushes in the Jumbo and place the elephant next to the bathroom sink, and excess water will drip straight into the sink.
Sponsored Links / Ads
Don't Miss This

Comparison of Electric Meat Slicers Designed for Home Use
Thinking about equipping your kitchen with an electric food slicer? Check out these tips.
More Cool Products