Self-Cleaning Garlic Press with Teeth
A good self-cleaning garlic press is an indispensable tool for anyone who loves to cook with garlic. Not only does a garlic press speed up food preparation, it is also a breeze to clean, provided that you get a model with spikes that help push garlic residue out of the holes of the press. Below, we take a look at OXO's large-capacity garlic press that has a built-in self-cleaning mechanism, so you won't have to worry about the plate with the cleaning spikes getting lost.
Built-in Teeth Push Out Garlic Pulp Stuck in the Holes
If you've ever owned an old-fashioned garlic press without a self-cleaning mechanism, you know how annoying it can be to clean the device when the hopper gets clogged with garlic pulp – you'll likely need to get a toothpick and poke the stick through each hole in the garlic press to get rid of the residue. With a self-cleaning garlic press, such as OXO's garlic press with a built-in cleaner, all you need to do is flip the handles over, and the little teeth on the press will push out any residue that may have been stuck in the holes. To complete the clean-up process, simply rinse the garlic press with warm water. If you forget to rinse it right after use and the tool gets a bit sticky, don't worry – OXO's self-cleaning garlic press is also dishwasher-safe, so you can always pop it into the dishwasher for a more thorough clean-up.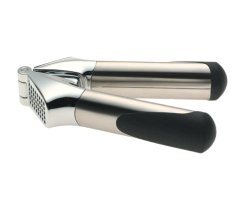 Press Multiple Garlic Cloves at Once
Many, if not most, garlic presses can only handle one or two cloves at a time, which means that if you're preparing a garlic-centric dish, or if you have a big family to feed, you'll likely have to repeat the press maneuver a couple of times to get enough minced garlic for your dish. OXO's self-cleaning garlic press, on the other hand, has a large-capacity hopper, and it can be used to press several garlic cloves at once. The large, non-slip handles provide a good grip as you press the pulp and juice out of those cloves, and the holes in the hopper have been specifically designed to maximize yield and reduce waste.
Tons of Great User Reviews
OXO's garlic press with a built-in self-cleaning mechanism has received hundreds of great reviews on Amazon. This sturdy garlic press has scored high marks for its sturdy construction, ease of use and ease of clean-up. On the negative side, some reviewers complain that since the handles are hollow, water will get inside of them if you wash the press in the dishwasher. However, if you make it a habit to use the built-in cleaning teeth immediately after each use, followed by a quick rinse with warm water, you might never have to use a dishwasher to clean your press.
Sponsored Links / Ads
Don't Miss This

Quest for the Best Electric Meat Slicer (for Home Use)
Thinking about equipping your kitchen with an electric food slicer? Check out these tips.
More Cool Products