Gluten-Free, Vegan Recipes for Kids (and Adults)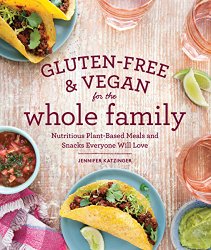 In Gluten-Free & Vegan for the Whole Family, a best-selling cookbook author and the founder of Seattle's popular gluten-free and vegan bakery, Flying Apron, serves up a collection of recipes for delicious plant-based meals and snacks that are egg-free, dairy-free, gluten-free, and mostly soy-free. Available both as a paperback and a Kindle e-book on Amazon.com, Amazon.co.uk and Amazon.ca, this gluten-free, vegan cookbook is packed with kid-friendly recipes that promise to satisfy even the pickiest eater. To learn more about this fascinating cookbook, keep reading.
Gluten-Free & Vegan for the Whole Family by Jennifer Katzinger
With food allergies and intolerances on the rise, particularly among kids, more and more families are choosing to eliminate common triggers, like gluten, eggs and dairy, from their diet. Yet, it can challenging to create allergen-free meals that also taste good, especially if you also follow a vegan diet plan which further limits the type of ingredients you can use. This is where Gluten-Free & Vegan for the Whole Family: Nutritious Plant-Based Meals and Snacks Everyone Will Love comes in. Written by best-selling cookbook author Jennifer Katzinger, this beautifully illustrated cookbook shows you how to create gluten-free, vegan dishes that even kids will love. The scrumptious recipes you'll find inside this 200-plus page cookbook prove that you don't have give up flavor to give up grains and animal-derived foods! Organized by meal type (breakfast, lunch, snacks, soups, vegetables & salads, dinners, and sweets & treats), this cookbook is packed with yummy gluten-free recipes such as:
Raw Kale Salad
Sweet Potato and Beet Chips
Quinoa Tabbouleh
Carrot Ginger Bisque
Pizza
Carrot Cake
Strawberry Surprise Popsicles
Brownies
Lentic Tacos
Spring Risotto Torte
Who Are Katzinger's Recipes Aimed At?
Gluten-Free & Vegan for the Whole Family is a great cookbook for families who want to eat nutritious, plant-based meals that are free of gluten, dairy and eggs. As most of the recipes are also soy-free, this book is also great for people who want to avoid soy. The 90 recipes featured in this visually stunning cookbook have been created with kids' taste buds in mind, but there are also plenty of tips on how to adjust the recipes to make them more compatible with adults' taste buds, if desired. Gluten-Free & Vegan for the Whole Family is available both as a paperback and a Kindle e-book through Amazon.com, Amazon.co.uk and Amazon.ca.
One final word—before buying this book, keep in mind that this is a general gluten-free, vegan cookbook and that the recipes in this book have not been designed to treat any particular condition or disease. Therefore, if you are trying to tackle a specific condition (other than celiac disease or intolerance to gluten, eggs or dairy), this cookbook may well contain some recipes that are not suitable/ideal for you. If you are unsure about what you should and shouldn't eat to prevent or control a specific health problem, talk to a qualified dietitian or nutritionist first. A dietitian or nutritionist may also be able to give you some tips on how to modify the recipes in this gluten-free cookbook so that they better meet your nutritional goals.
Sponsored Links / Ads
More to Explore

Weight Loss Benefits of Spirulina - More Than a Myth?
Is there scientific proof to back up the weight loss claims made about spirulina? Let's find out.
Related Cookbooks