Green Smoothie with Lucuma Powder
Makes 2 servings

Lucuma powder is made from the dried fruit of the lucuma tree which is native to the Andean valleys and grown in Peru and the surrounding countries. One of the easiest ways to use lucuma powder is to add it to green smoothies and other smoothies, and indeed, there are tons of smoothie recipes out there that call for lucuma powder. Not only do foodies use lucuma powder in smoothies because of its sweet, caramel-like flavor, but they may also use it to elevate the nutritional value of their smoothies (some of the key nutrients in lucuma powder include iron, phosphorus and B vitamins).
In homemade smoothies, lucuma is often paired with fresh mango, frozen or fresh strawberries. There are also plenty of smoothie recipes that pair lucuma with maca, another nutritious food that hails from Peru, as well as recipes that combine lucuma and cacao. Because of its naturally sweet flavor, lucuma powder can also be used as a sweetener in vegetable-heavy green smoothies that can benefit from an extra kick of sweetness.
Here, we pair lucuma powder with banana, avocado and fresh spinach leaves to create a creamy green smoothie that packs a nutritional punch and that is perfect for those following a vegan diet. Because both lucuma powder and spinach are rich in iron, this green smoothie makes a great drink for those who are looking to up their iron intake.
However, it is important to keep in mind that the iron in spinach, lucuma powder and all other plant-based foods is so-called non-heme iron which is not as readily absorbed by the human body as heme iron, the type of iron you get from meat and poultry.
The good news is that vitamin C can help improve the absorption of non-heme iron in your digestive tract, which is why this green smoothie recipe also features baobab powder. For those who missed the memo, the baobab fruit is a vitamin C rich superfood that contains nearly 10 times as much vitamin C as an equivalent serving of oranges. Baobab also beats lucuma in terms of vitamin C content: the former contains up to 500 milligrams of vitamin C per 100 grams of fresh fruit pulp, whereas the latter contains 2.2 milligrams of vitamin C per 100 grams of fresh fruit pulp (1, 2).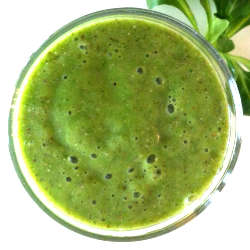 Ingredients
1 cup baby spinach
1 avocado
1 small banana
2 Tbsp lucuma powder
1 cup water
1/2 cup crushed ice
Directions
Rinse, peel and trim the ingredients as needed, and cut the banana and avocado into large chunks.
Place 1 cup of water along with the spinach leaves, avocado, banana, lucuma powder and crushed ice in a blender, and secure the lid.
Process until smooth and creamy, adding water if necessary.
Chef's Notes
For maximum flavor, select bananas that are ripe. Ripe are much sweeter and more flavorful than unripe bananas, plus they are easier to digest.
For best results, use a vacuum blender which helps protect the color of fast-oxidizing ingredients such as bananas and avocados.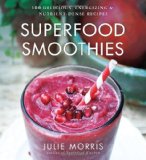 BOOK YOU MAY LIKE
Tired of the same old smoothie ingredients? There's no better place to look for inspiration than the New York Times bestseller Superfood Smoothies by Julie Morris! From antioxidant-rich acai berries and blueberries to omega-3 rich seeds like flaxseeds and chia seeds, the ingredients in this much-praised book definitely tick the superfood box. What's more, Julie's alluring recipes are quick and easy to make, and they come with handy icons providing insights into their nutritional and/or health benefits (like Protein, Low Calorie, Bone Strength). To learn more or to order a copy from Amazon, click here (affiliate link).