Beta-Carotene Packed Green Smoothie
Yields about 3.5 cups
Note: This recipe is not suitable for people who are allergic or sensitive to nuts.
When we think of beta-carotene, we usually conjure up images of carrots and other orange vegetables and fruits. But beta-carotene is also abundant in a number of other plant-based foods, and some of them aren't even orange! In fact, some of the very best sources of beta-carotene are actually green. In these foods, chlorophyll, a green plant pigment, masks the orange color of beta-carotene.
The following smoothie recipe pairs two excellent leafy green sources of beta-carotene: kale and spinach. To ensure this smoothie is not only good for your body but also for your palate, the recipe uses baby spinach and baby kale which are milder in flavor than their mature counterparts. Cashew nuts, which contain essential fatty acids, are added to the blend to help your body absorb the beta-carotene (as you may know, beta-carotene is a fat-soluble nutrient and foods that contain fat enhance its absorption within the body).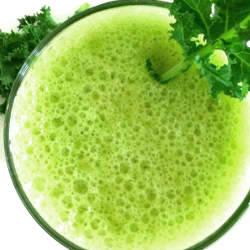 Ingredients
1 ripe banana, peeled and diced
1 mango, peeled and diced
2 Tbsp cashew nuts
1 cup baby spinach, rinsed
1 cup baby kale, rinsed
1 cup (or more) cold water
½ crushed ice (optional)
Directions
Place all the ingredients in a high-powered blender and process until smooth.
Check the consistency. If the smoothie is too thick to your liking, and a bit more water, and blend again. Serve immediately.
Don't Miss This

Meet the Yonanas 902, The Healthy Frozen Dessert Maker
Meet the gadget that turns frozen fruit into healthy, 100% fruit-based mock ice cream.
More to Explore
Book You May Like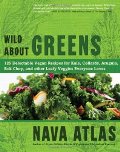 In Wild About Greens, best-selling cookbook author Nava Atlas delivers 125 extra-healthy recipes showcasing green leafy vegetables like kale, bok choy, arugula and collards. Weighing in at over 200 pages, this well-rounded cookbook starring leafy greens has received rave reviews on Amazon, so if you're looking for a collection of recipes covering the whole spectrum of wholesome green vegetables, be sure to check out this one. Available from

Amazon.com and


Amazon.ca in North America, and from


Amazon.co.uk in the UK.