Mango and Kiwi Smoothie with Kale Powder
Kale may be the latest green smoothie ingredient to take America's foodie circles by storm. Unfortunately, however, fresh organically-grown kale is not always available in grocery stores. But, not to worry—when kale is out of season, you can use kale powder as a substitute in your smoothies. In this week's healthy green smoothie recipe, kale powder is used to boost the nutritional value of a fruity blend of sweet mango, creamy banana and refreshing kiwifruit.
When kale leaves are dried to make powder, their water content is reduced close to zero, which makes dried kale leaves an extremely concentrated source of nutrients. A study published in Journal of Food Processing and Preservation in August 2013, for example, found that 100 grams (3.5 oz) of fresh kale contained 121 milligrams of chlorophyll, 28.1 milligrams of total carotenoids and 5.77 milligrams of beta-carotene, while the amounts of chlorophyll and carotenoids in 100 grams of air-dried kale were 646 milligrams and 158 milligrams, respectively. Of course, leaf for leaf, kale powder does not compare to fresh kale as drying always causes some loss of nutrients, but it is a good alternative to have on hand when fresh kale is out of season. Just keep in mind, kale powder has a very strong flavor (and smell), so when using it in smoothies, you may want to start with a very small dose and work your way up as you get used to the intense flavor of this green superfood powder.
Kale powder is available in many health food stores, but you can also buy organic kale powder online. The online retailer Amazon, for example, sells organic kale powder here.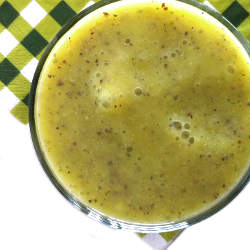 Directions
Place all the ingredient in a high-powered blender and process until smooth.
Check the consistency of the smoothie. If it's is too thick for your taste, add more water, and blend again.
Pour into glasses, and serve immediately.
Serves 2
Book You May Like

In this celebration of all things kale, New York-based health writer and certified holistic health counselor (CHHC) Stephanie Pedersen provides more than 75 recipes to tempt your palate and boost your well-being. You'll find healthy recipes for everything from stews and salads to sandwiches and smoothies, and because even healthy people need a treat every now and then, there are also recipes for exciting kale muffins and chips! To learn more,
head to Amazon
.
Sponsored Links / Ads