Veg-and-Fruit Smoothie Featuring Flaxseed
Yields about 4 cups
Having a difficult time eating more vegetables? Try drinking them! Drinking green smoothies, which pair green vegetables with juicy fruits, is a simple and inexpensive way to increase your vegetable (and fruit) intake. The following smoothie recipe pairs nutrient-packed baby spinach and refreshing cucumber with creamy banana and sweet mango to create a luscious green drink that will delight your body as well as your palate. Ground flaxseed, which is packed with minerals and omega-3 fatty acids, is added to the mix to further boost its nutritional value.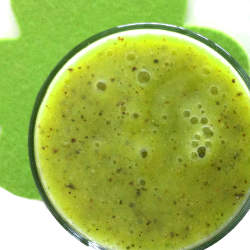 Ingredients
1 mango
1 small banana
1 cup baby spinach leaves
1/2 cucumber
1 cup cold water
1 Tbsp ground flaxseed
½ cup crushed ice (optional)
Directions
Rinse the baby spinach leaves, and peel the mango and banana. You can also peel the cucumber for a silkier smoothie, but if you want to maximize the nutrient content of this veg-and-fruit smoothie, leave the peel on, and only rinse the cucumber.
Remove the stone from the mango, and cut all the fruits and cucumber into large chunks.
Place all the ingredients in a high-powered blender, such as a Vitamix or the Breville VBL060, and process until smooth. Serve immediately.
Don't Miss This

Meet the Smart Digital Food Scales That Show Nutrition Facts
Instead of just weighing foods, these smart kitchen scales also provide nutritional information.
More to Explore
Book You May Like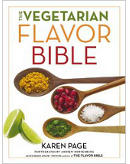 Created by culinary expert and award-winning author Karen Page,
The Vegetarian Flavor Bible
is a real treasure trove of ideas for healthy plant-based meals. But before you
get a copy
of this massive 576-page book, know this: instead of showcasing a bunch of recipes, this unusual cookbook delivers
ideas and inspiration
by providing an A-to-Z listing of hundreds of plant-based whole foods, cross-referenced with the vegetables, herbs and spices that best enhance their flavors. To learn more about how to use this extraordinary book to sharpen your healthy cooking skills,
click here
.