Antioxidant-Packed Berry Smoothie with Camu-Camu Powder
Makes 2 servings
Frozen berries are the perfect base for any smoothie: Commercially frozen berries are flash-frozen at their peak ripeness to preserve antioxidants and nutrients; they are available year round; and finally, they are crucial to achieving that thick, frosty smoothie texture. Here, we pair antioxidant-rich frozen blueberries and strawberries with nutritious almond milk and a sweet banana to create a luscious concoction that's sure to please your taste buds. Vitamin C rich camu-camu powder is added to the mix to give it an extra health kick. Camu-camu powder is available at many health food stores, but you can also buy organic camu-camu powder online. The online retailer Amazon, for example, sells certified organic camu-camu powder here (

for US shoppers) and here (

for UK shoppers).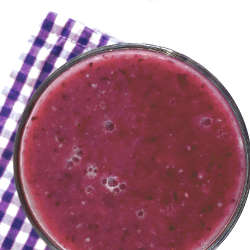 Ingredients
1 cup frozen blueberries
1 cup frozen strawberry slices
1 ripe banana
1 cup almond milk
½ tsp camu camu powder
Water, as needed
Directions
Rinse the frozen blueberries and strawberry slices and let them thaw in a glass bowl for at least 10 minutes. Meanwhile, peel and slice the banana, and put it in a high-powered blender.
Add the almond milk to the blender, followed by the camu camu powder and thawed berries, along with any juice left in the glass bowl.
Blend until thoroughly combined, turning off the blender and pushing down on the ingredients with a spatula as needed to help the blending process.
Check the consistency. If the smoothie is too thick, add more water, and blend for a few more seconds.
Pour equally into two glasses, and serve immediately.
Don't Miss This

5 Tips for Buying the Freshest Ingredients
Five tips to help you find and buy the freshest ingredients on a regular basis.
More from HealWithFood.org
Book You May Like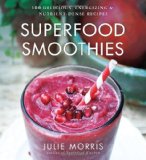 Stuck in a smoothie rut? There's no better place to look for inspiration than Julie Morris'
Superfood Smoothies
! Morris gives her vegan smoothies an extra health kick by using some of the most nutrient-dense natural ingredients on Earth. Hemp seeds, camu camu powder, maca, lucuma, açai berries, chia seeds, chlorella, and goji berries are a few examples of the trendy superfoods that frequently pop up in this fascinating cookbook. Available from

Amazon.com
and

Amazon.co.uk
.