Strawberry and Melon Smoothie
Makes 2 servings
Both melon and strawberries, the star ingredients of this vegan smoothie, pop up on top of the list of the best low-calorie fruits, with each providing fewer than 50 calories per 100 grams (or 3.5 ounces). And, as this recipe uses sparkling water, rather than fruit juice or yogurt, you won't have to worry about the liquid base adding any extra calories to the drink.
This strawberry and melon smoothie also features chia seeds which are thought to promote a feeling of fullness and keep those blood sugar levels in check. If your local grocery store does not stock chia seeds, look for them in the health food stores, or buy organic chia seeds online.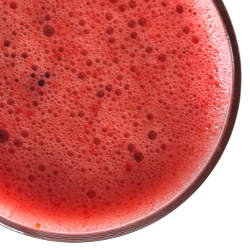 Ingredients
1 ½ cups sparkling water
4 oz diced cantaloupe melon
1 apple, rinsed, cored and diced
8 frozen strawberries, rinsed
1 Tbsp chia seeds
Directions
Place all the ingredients in a high-powered blender in the order listed above. Blend until smooth.
Pour into glasses and serve.
Don't Miss This

Kitchen Safe - A Time-Lock Container for Storing Goodies
This smart container prevents people with a sweet tooth from succumbing to sudden cravings.
More from HealWithFood.org
Book You May Like

If you are looking for an easy-to-use low calorie cookbook, be sure to check out the
Mix & Match Low-Calorie Cookbook
from the Editors of
Cooking Light
, America's leading epicurean magazine and authority on healthy cooking. This extraordinary cookbook provides four categories of recipes – breakfast, lunch, dinner, and snacks – and if you pick one from each category, plus an extra snack, your total calories for the day will always be 1500 calories or less. The book also includes options for increasing the portions in case you need more than 1500 calories a day. Available from
Amazon.com
,
Amazon.co.uk
&
Amazon.ca
.