How to Make a Winning Smoothie with Frozen Strawberries
Makes 2 servings
Fresh strawberries make a wonderful smoothie ingredient, but the season for local strawberries is relatively short. If you love the fruity flavor strawberries impart to smoothies, buy some extra strawberries when they are in season, and freeze them for later use in smoothies. In terms of vitamin C content, frozen strawberries are just as nutritious as fresh strawberries. What's more, using frozen strawberries instead of fresh strawberries in smoothies is a great way to make cold, refreshing smoothies without the use of ice cubes. Here's how to whip up a winning smoothie using frozen strawberries: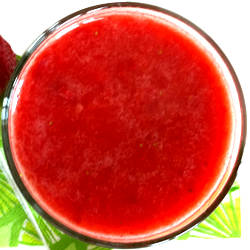 Ingredients
About 1 ⅔ cups water
1 ripe banana
⅔ cup sliced frozen strawberries, slightly thawed
1 cup chopped fresh fruit (e.g. pineapple, mango, passion fruit, apricots or pomegranate)
2 Tbsp unsweetened nut butter (e.g. cashew butter, almond butter, macadamia nut butter, tiger nut butter)
Directions
Add 1 ⅔ cups water to a high-powered blender. Rinse, peel, core and dice the other ingredients as needed, and add them to the blender.
Blend until thoroughly combined, turning off the blender and pushing down on the ingredients with a spatula as needed to help the blending process.
Check the consistency. If the smoothie seems too thick, add more water, and blend for a few more seconds.
More Smoothie Recipes Featuring Frozen Strawberries
Frozen Strawberry Smoothie without Banana
Here's a wonderful recipe for a chia smoothie that relies on chia seeds for thickness and fresh mango and frozen strawberries for flavor. This recipe is perfect for those who want a thick frozen strawberry smoothie that contains neither dairy nor bananas.
Low-Calorie Frozen Strawberry Smoothie
If you like to keep your calories in check, you will love this strawberry and melon smoothie. Both melon and frozen strawberries, the star ingredients of this vegan smoothie, pop up on top of the list of the best low-calorie fruits, with each providing fewer than 50 calories per 100 grams. And, as this recipe uses sparkling water instead of juice or yogurt, you won't have to worry about the liquid base adding calories to this blend.
Omega-3 Rich Frozen Strawberry Smoothie
Frozen strawberries pair with almond milk in this luscious strawberry smoothie that's sure to tickle your taste buds. In addition to strawberries and almond milk, this smoothie recipe calls for a ripe banana, which lends creaminess to the blend, and an organic apple, which adds sweetness. Cold-pressed, omega-3 rich walnut oil is added to the mix to give it an extra health kick!
Superfood Smoothie for Cancer Prevention
The potential anti-cancer effects of strawberries have received a lot of attention from researchers in recent years. In this smoothie, the strawberries come together with cranberry juice and purple grapes, which also contain compounds that have been shown to exert anti-cancer effects in laboratory studies.
RELATED BOOK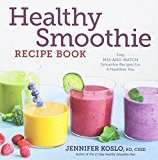 In
The Healthy Smoothie Recipe Book
, registered dietician and nationally recognized nutrition expert Jennifer Koslo provides
mix-and-match ideas for creating super-healthy smoothies
that also taste good. With chapters on detox smoothies, digestive aids, inflammation fighters, anti-aging mixtures, immune boosters, weight loss smoothies and more, this book has something for everyone. To learn more, or to grab a copy,
go to Amazon
.