Vegan Strawberry Smoothie Featuring Walnut Oil
Makes 2 servings
Note: This recipe is not suitable for people who are allergic or sensitive to tree nuts.
Frozen strawberries pair with almond milk in this luscious creation that's sure to tickle your taste buds. In addition to strawberries and almond milk, this smoothie recipe calls for a ripe banana, which lends creaminess to the blend, and an organic apple, which adds sweetness. Cold-pressed, omega-3 rich walnut oil is added to the mix to give it an extra health kick!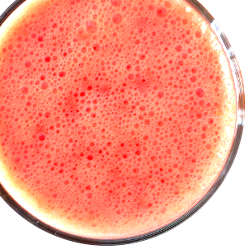 Ingredients
1 ripe banana,
1 cup frozen strawberry slices
1 organic apple
1 ⅔ cups almond milk
1 Tbsp cold-pressed walnut oil
Water, as needed
Directions
Peel and slice the banana, and rinse the strawberry slices. Rinse, core and dice the apple.
Add the almond milk to a high-powered blender, followed by the banana, strawberry slices, apple and walnut oil.
Secure the lid, turn the blender on, and slowly increase the speed. Blend at full speed until the mixture is nice and creamy. Add water if needed to adjust the consistency.
Pour into glasses, and serve immediately.
Don't Miss This

Planning Ahead is Key to Eating Healthy on a Budget
With a little bit of careful planning, you can follow your favorite diet plan without breaking the bank.
More from HealWithFood.org
Book You May Like

Walnut oil and other healthy alternatives to processed cooking oils are a hot topic these days. However, not everyone knows how to choose and use all those healthy oils lining the grocery store shelves. That's where
The Big Book of Healthy Cooking Oils
by renowned culinary speaker and cooking instructor Lisa Howard comes in. This gluten-free and Paleo-friendly guide and cookbook with more than 85 recipes showcases the different attributes of each oil's distinct flavor, ideal cooking temperature and beneficial nutrients. To learn more, or to order your copy today, head to

Amazon.com
or

Amazon.ca
if you live in North America, or to

Amazon.co.uk
if you live in the UK.