Moringa Leaf Powder: Health Benefits & Medicinal Uses
Published: July 20, 2018
Also known as drumstick tree, horse radish tree or ben oil tree, moringa (Moringa oleifera Lam.) is an extraordinary plant that has a long history of use in India, not only as food but also as medicine. In Ayurveda, the traditional Indian system of healing, moringa leaves have been used medicinally to treat everything from anemia and skin problems to inflammatory conditions and heart disease.
In recent years, moringa has also garnered a lot of interest from health enthusiasts in the West, and some have even described moringa as a superfood thanks to its high nutritional value and purported health benefits. Moringa powder made from dried and ground moringa tree leaves, in particular, has become a popular dietary supplement among Westerners looking for natural ways to regain health and fight chronic diseases.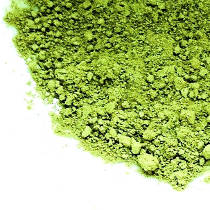 In this article, we take a look at some of the most interesting potential health benefits of moringa leaves and provide an overview of studies that seem to support the traditional medicinal uses of moringa.
It is important to keep in mind, however, that scientific research on the health benefits of moringa powder is still in its infancy, and that more studies – especially human studies – are still needed before any definite conclusions can be made about the medicinal properties of Moringa oleifera.
Antiviral and Antibacterial Effects
A study published in the November 2003 edition of the journal Antiviral Research found that a moringa extract was as effective as the anti-viral and anti-herpes drug Acyclovir at delaying the development of skin lesions in mice infected with HSV-1 (herpes simplex type 1) which causes cold sores in humans.
In another study, aqueous and ethanolic moringa leaf extracts exerted anti-bacterial effects against Staphylococcus aureus. Also known as Staph A, Staphylococcus aureus is a common cause of skin infections (such as pimples, boils, impetigo, and cellulitis folliculitis), food poisoning, and respiratory diseases (such as sinusitis).
Skin colonization with Staph A is also common in people with atopic eczema, with over 90% of eczema sufferers carrying Staph A on their skin.
Anti-Inflammatory Properties
A study on laboratory animals published in The Journal of the Federation of American Societies for Experimental Biology found that moringa leaf extract had significant anti-inflammatory activities, though not of the same magnitude as indomethacin, a non-steroidal anti-inflammatory drug (NSAID).
In another experiment, administration of moringa leaf extract to Wistar rats was associated with a dose-dependent reduction in carrageenan-induced paw inflammation.
In yet another study, undertaken by Iranian scientists and published in the February 2011 issue of the Journal of Chinese Integrative Medicine, Moringa oleifera root and leaf extracts reduced pain and improved function in laboratory animals with arthritic joints.
Also anecdotal reports suggest that moringa leaf powder may offer benefits to people suffering from rheumatoid arthritis. However, at this point, well-controlled clinical trials are still needed to validate the use of moringa powder as an anti-inflammatory and anti-arthritic agent.
Potential as an Anti-Cancer Supplement
A tissue culture study that appeared in the June 2011 edition of the journal Food and Chemical Toxicology found that moringa leaf extract was effective at hindering the growth and reproduction of human cancer cells. This led the researchers to conclude that moringa leaf shows potential as a natural anti-cancer agent.
These results are consistent with a more recent study which found that moringa leaf extract was capable of inhibiting tumor cell growth, inducing apoptosis and lowering the level of internal reactive oxygen species (ROS) in human lung cancer cells as well as several other types of cancer cells.
Anti-Diabetic Effects
In Ayurvedic medicine, Moringa oleifera is commonly used as healing herb to treat diabetes. Intrigued by this traditional medicinal use of moringa, a group of researchers from India set to investigate the hypoglycemic and anti-diabetic effects of moringa leaf extract in diabetic rats.
The extract proved to be effective at lowering high blood glucose levels as well as at eliminating sugar and protein in the urine, two warning signs of uncontrolled diabetes. Their findings were published in the June 2009 issue of the Journal of Ethnopharmacology.
Effects on Body Weight
In an animal study published in the June 2015 issue of the journal Molecular Nutrition & Food Research, a group of laboratory mice were fed a very-high-fat diet supplemented with 5% moringa concentrate delivering 66 mg/kg/d of moringa isothiocyanates. The mice in the control group were fed a similar diet but did not receive the isothiocyanate-rich moringa extract.
The results were promising: compared with the mice in the control group, the mice that received the moringa supplement experienced reduced weight gain, improved glucose tolerance and insulin signaling.
In another animal study, oral administration of an extract derived from moringa leaf powder resulted in a significant reduction in body weight, total cholesterol, triglycerides and LDL levels in obese rats that were fed a high fat diet. The extract used in this study was derived from moringa leaves that were air-dried for two weeks, then turned into moringa powder, and finally used for the preparation of a methanol-based moringa extract.
Cardiovascular Benefits
Practitioners of Ayurvedic medicine who swear by the health benefits of moringa powder have used moringa leaves to treat cardiovascular problems for years, and now there seems to be at least some evidence to support this traditional medicinal use of Moringa oleifera in India.
In one study, published in the March 1994 issue of Phytotherapy Research, a moringa leaf extract caused a dose-dependent reduction in both systolic and diastolic blood pressure in anaesthetized rats.
In another study, published in the January 2000 issue of the Journal of Ethnopharmacology, administration of moringa leaf extract to rats on a high fat diet decreased diet-induced increases in serum, liver, and kidney cholesterol levels. The effect on the serum cholesterol levels was statistically significant.
The researchers concluded that moringa leaves have hypocholesterolemic (cholesterol-lowering) activity and that there appears to be a pharmacological basis for the traditional use of moringa leaves as a cholesterol-lowering agent in India.
Both elevated cholesterol levels and hypertension (high blood pressure) are risk factors for cardiovascular disease.
Ready to Reap the Health Benefits of Moringa Powder?
Can't wait to start using moringa to reap its benefits? Finding fresh moringa leaves can be a challenge, but moringa powder made from dried and ground moringa leaves is today readily available at many health food stores in North America and Europe. If you like the convenience of online shopping, you can also buy moringa powder on Amazon. By making your purchases through the affiliate link above, you will not only benefit from the attractive Amazon prices, but you will also be supporting HealWithFood.org, without any extra cost to you.
Don't Miss This

Omega-3 Content of Wild vs Farmed Salmon
How farmed salmon compares to its wild counterpart in terms of omega-3 fatty acid content.
More to Explore
Book You May Like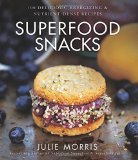 Who says snacks and desserts have to be unhealthy? In
Superfood Snacks
, recipe developer and New York Times best-selling author Julie Morris shares
100 creative recipes that transform "guilty" pleasures into healthlicious snacks
that are loaded with nutrients. Julie's inspiring recipes feature health food staples like bananas, quinoa and oats, as well as exotic superfoods like chia seeds, acai berries, goji berries, maqui beries, hemp seeds, camu camu, and more. Jam-packed with stunning photography to whet your appetite, this 200-plus page collection of healthy treats is
available here through Amazon
.