10 Ways to Use Moringa Powder (Plus Tasty Recipes)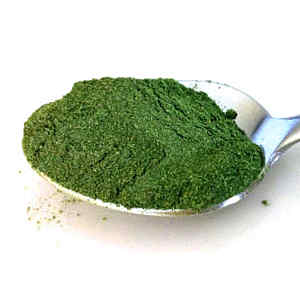 Have you ever wondered what to do with moringa powder, the nutrient-dense superfood powder made from the dried leaves of the Moringa oleifera tree? Turns out, moringa powder is a surprisingly versatile ingredient: it can be used to add nutrients and color to everything from popsicles and energy bars to green lattes and smoothies. Here are 10 creative ideas on how to use moringa powder plus a bunch of tasty moringa recipes:
1. Make Moringa Leaf Tea
If you want to reap the much-touted weight loss benefits of moringa, the perhaps best way to consume moringa is to make it into a herbal tea. To make a cup of weight loss promoting moringa tea, simply dissolve 1 teaspoon of moringa powder in boiling water and sweeten with a low calorie sweetener such as stevia or monk fruit.
2. Make Refreshing Moringa Popsicles
Homemade popsicles are the perfect summer treat to help you cool off and stay hydrated in summer. And, if you incorporate some moringa powder into your popsicles, they will be chock-full of health-boosting nutrients, too. Here's an easy mango and moringa popsicle recipe for you to try:
Make 4 cups of moringa tea (see instructions above), and let the tea cool to room temperature. In the meantime, cut the flesh of one ripe mango into cubes.
Put the tea and mango cubes in a blender, and add 1 to 2 tablespoons of lemon juice.
Blend until nice and smooth, and sweeten with honey to taste.
Fill your popsicle molds with the mixture, and freeze until frozen all the way through.
3. Incorporate Some Moringa Powder into an Omelet
Green superfood powders like moringa and spirulina make perfect additions to omelets and scrambled eggs. Not only do they bump the nutritional value of the dish, they also add beautiful green color. To use moringa to elevate your omelets and scrambled eggs, simply add a pinch of moringa powder to the egg mixture before cooking it on a frying pan.
4. Supercharge Your Pesto with Moringa
Basil, pine nuts, Parmesan cheese, garlic and olive oil are the classic pesto ingredients, but if you want to take this classic recipe to the next level in terms of health benefits, try adding some moringa powder to your pesto. You can eat your moringa pesto any way you see fit – for example, you can stir it into your favorite pasta shapes, or serve it on a piece of grilled chicken.
5. Whip Up a Moringa Latte
Matcha lattes are all the rage right now, but did you know that you can also use moringa instead of matcha to create a beautiful green "latte"? A hot moringa latte is great for those days when you feel like having a warm, frothy beverage, but prefer to keep it caffeine-free. Here's how to whip up a vegan moringa latte in three easy steps:
Heat 1 cup of vegan "milk" such as almond milk or cashew milk on the stove using a small pot or saucepan.
When the milk begins to bubble, turn off the heat.
Add 1/2 tablespoon of moringa powder and 1 to 2 teaspoons of honey. Use a whisk to make the beverage nice and frothy. Enjoy!
6. Use Moringa Powder in Homemade Energy Bars
Moringa has been touted as a natural, caffeine-free energy booster, which makes it a great ingredient for energy bars. So, why not give your homemade power bars an extra kick by incorporating some moringa powder into the recipe? And, in case you don't have the time to make your own moringa power bars, you can also resort to store-bought moringa bars (you can buy Kuli Kuli's moringa energy bars on Amazon).
7. Sneak Some Moringa Powder into Green Smoothies
A homemade green smoothie is the perfect way to start a day, and moringa powder makes a great addition to almost any green smoothie recipe. Here's a simple moringa smoothie recipe that also uses maca powder, another superfood powder that has been touted for its energy-boosting properties:
Add 1 2/3 cups of water, 1 banana, 2/3 cup of frozen strawberries, 1 cup of chopped apricots (or another fresh fruit), 1 teaspoon of moringa powder and 1 teaspoon of maca powder to a blender.
Process until smooth and creamy, turning off the blender and pushing down on the ingredients with a spatula as needed to help the blending process.
Check the consistency. If the smoothie seems too thick, add water accordingly, and blend for a few more seconds.
8. Use Moringa Powder in Pureed Soups
Adding moringa powder to pureed soups is an easy way to incorporate more of this nutritious superfood into your diet. Moringa is a particularly good addition to green soups such as soups starring broccoli, spinach, peas, kale, or zucchini. To protect its heat-sensitive nutrients, add moringa powder to your soup only at the end of the cooking process.
9. Use Moringa Powder in Salad Dressings
Yet another great way to use moringa is to add a small amount of moringa powder to salad dressings. Here's a simple recipe for an oil- and vinegar-based salad dressing that features moringa:
Pour 6 tablespoons of extra-virgin olive oil and 2 tablespoons of white balsamic vinegar into a clean glass jar.
Add 1 teaspoon of Dijon mustard, 2 tablespoons of chopped fresh herbs, 1 teaspoon of moringa powder, and salt and freshly-ground black pepper to taste.
Screw on the lid and shake well to combine the ingredients.
10. Use It to Give Your Pasta Dishes a Nutritional Boost
If you have a pasta roller or one of those fully automatic pasta makers that make fresh pasta from scratch, take note: moringa powder can also be used to add a boost of nutrients to homemade pasta dough! And, even if you are not into making pasta from scratch, you can still incorporate moringa powder into your pasta dishes by adding it to the sauce.
Can't wait to start using moringa powder?
If you got inspired by the moringa recipes and ideas listed above but don't have moringa powder in your superfood pantry yet, you can always order it online. If you don't know which brand to pick, try
Zen Principle's organic moringa powder
which is available on Amazon and which has received great reviews from the online retailer's customers.