Using Frozen Banana in Smoothies: Tips, Tricks and Recipes
There are tons of smoothie recipes out there that call for frozen bananas. These recipes use frozen bananas not only to make the smoothies cold and refreshing without the use of ice cubes, but also to give them a wonderful creamy texture. Vegan smoothies, in particular, can get a real lift from frozen bananas as these dairy-free drinks cannot rely on yogurt or ice cream for a creamy texture. In this article, we will first provide tips on how to successfully freeze bananas for smoothies and other frosty treats. Later in the article, you will also find a super-easy recipe for a vegan smoothie featuring frozen bananas as well as links to tons of other alluring smoothie recipes that use frozen bananas.
How to Freeze Bananas for Smoothies
If you've never frozen bananas for smoothies, there are a few simple steps you will want to follow. Following these steps will not only help you create smoothies that taste great, but also help extend the life of you blender.
For maximum flavor, select bananas that are ripe or even overripe. Ripe and overripe are much sweeter and more flavorful than their unripe counterparts, plus they are easier to digest.
Peel and slice the bananas, and arrange the slices in a single layer on a parchment-lined baking pan, leaving a little space between each slice. If you toss the unfrozen slices directly into freezer-safe bags, they'll freeze into a brick of frozen banana slices that even a high-powered blender will have trouble breaking down.
Next, place the baking pan in the freezer, making sure that it's secure and level so it won't fall even if the freezer door is opened.
Once the slices are thoroughly frozen (it can take several hours for the slices to freeze completely), remove the baking pan from the freezer and transfer the frozen banana slices to freezer-safe ziploc bags or containers. If you are using ziploc bags, make sure you press out all the air before sealing the bags.
Put the closed bags or containers immediately back in the freezer. Now, as long as you don't let the contents of those bags or container thaw at all, each piece of fruit will stay as an individual piece.
Recipe: Easy Vegan Smoothie with Frozen Banana
Makes 2 servings—Rich, creamy and refreshing, this vegan smoothie blends together strawberries and frozen banana for a satisfying smoothie that makes a healthy breakfast or a great pick-me-up snack. In addition to being chock-full of flavor and nutrients, this smoothie is also a cinch to prepare, and all the ingredients are easy to obtain.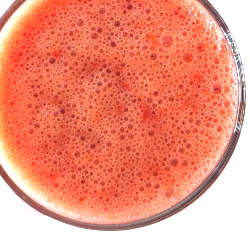 Ingredients
1 ⅔ cups water (approx.)
1 apple
12 strawberries
1 cup frozen banana slices
Directions
Add 1 ⅔ cups water to a high-powered blender that can handle frozen ingredients. Rinse, trim and dice the remaining ingredients as needed, and add them to the blender in the order listed above.
Blend until thoroughly combined, stopping to scrape down sides and to check the consistency. If the mixture seems too thick, add water accordingly.
Pour equally into two glasses, and serve immediately.
More Recipes Featuring Frozen Banana
Book You May Like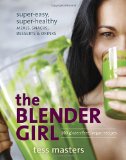 In her much-anticipated debut cookbook
The Blender Girl
, recipe developer Tess Masters serves up a collection of inspiring recipes for vegan smoothies and meals that can be made in a blender. Not only are all the recipes in this visually stunning cookbook vegan, they are also gluten-free. What's more, many of the recipes are also soy-, corn- and sugar-free.
Available here from Amazon
.
Sponsored Links / Ads