Carrot & Ginger Smoothie
Makes 2 servings
Shake up your smoothie routine with this invigorating blend of carrot juice, mango, apple and fresh ginger. A frozen banana is added to the blend to give it a smooth, velvety texture and to make your drink nice and cold.
While any 100% pure carrot juice can be used for this smoothie, freshly-pressed carrot juice is recommended as it has the most intense flavor and a high nutrient content. So, if you have a juicer (or one of the new juicer-blender combos) and you don't mind the extra work, start by juicing some carrots. For this smoothie, you will need about 1 ½ cups of carrot juice, but you might want to make more juice while you are at it. You can store the extra carrot juice in the fridge for a couple of days.
As for the frozen banana, you will want to make sure it won't destroy your blender. If you have never frozen bananas for smoothies, this is how to do it: First, peel and slice the banana. Next, arrange the slices in a single layer on a parchment-lined baking pan (if you toss the unfrozen slices directly into freezer-safe bags, they'll freeze into a brick of frozen banana slices that no blender will be able to handle). Place the baking pan in the freezer, and once the slices are frozen, transfer them to freezer-safe Ziploc bags or containers.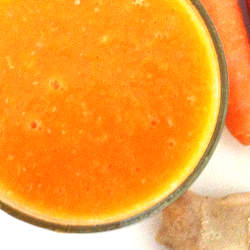 Ingredients
1 ½ cups pure carrot juice
1 large mango, diced
1 apple, rinsed, cored and diced
1 tsp grated fresh ginger
1 banana, peeled, sliced and frozen
Directions
Place the ingredients in a large-capacity blender in the order listed above, and secure the lid.
Turn the blender on and slowly increase the speed. Blend at full speed for about 1 minute, or until desired consistency is reached.
Pour into glasses, and serve immediately.
Book You May Like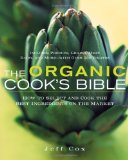 In this indispensable guide and cookbook,
the organics guru Jeff Cox provides expert advice on more than 150 organic foods
in a reader-friendly, alphabetically organized format. Each entry covers the nutritional profile of the food, comparison with the non-organic counterpart, as well as information about seasonality, various types, selection, storage, and preparation. You'll also find loads of delicious, approachable recipes to try your hand at! Available from

Amazon.com
and

Amazon.co.uk
.
Sponsored Links / Ads