Gingery Green Smoothie with Spinach and Mango
Makes 2 servings
Baby spinach forms the base of this energizing green smoothie. If you are new to the green smoothie scene, baby spinach is usually a good choice for newbies since it has a milder flavor than greens like kale and chard. The mango and apple in this smoothie add sweetness to the blend, the fresh ginger adds zing, and the frozen banana works as a thickener.
Now, if you've never frozen bananas for smoothies, here's how to do it right: First, peel the banana and cut it into 1-inch chunks. Next, arrange the chunks in a single layer on a sheet pan lined with parchment paper, and place the sheet pan in the freezer. Once the chunks are frozen, transfer them to freezer safe Ziploc bags or containers. If you skip these steps and toss the unfrozen chunks directly into freezer-safe bags, they'll form a brick of frozen banana chunks that even a high-powered blender will have trouble processing.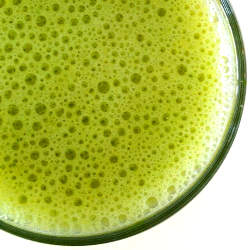 Ingredients
1 ½ cups water
1 large mango, diced
1 small apple, rinsed, cored and diced
1 cup baby spinach, rinsed
1 tsp grated fresh ginger
1 banana, peeled, sliced and frozen
Directions
Place all the ingredients in a high-powered blender, such as a Vitamix or MagiMix, and secure the lid.
Turn the blender on and slowly increase the speed. Blend at full speed for about 1 minute, or until desired consistency is reached.
Pour into glasses, and serve immediately.
Book You May Like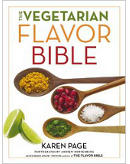 Created by culinary expert and award-winning author Karen Page,
The Vegetarian Flavor Bible
is a real treasure trove of ideas for healthy plant- based meals. But before you
get a copy
of this massive 576-page book, know this: instead of showcasing a bunch of recipes, this unusual cookbook delivers
ideas and inspiration
by providing an A-to-Z listing of hundreds of plant-based whole foods, cross-referenced with the vegetables, herbs and spices that best enhance their flavors. To learn more about how to use this extraordinary book to sharpen your healthy cooking skills,
click here
.
Product You May Like

Microgreen Starter Kit with a Smart Suction Cup Tray
You can now have an indoor microgreen garden even if you don't have a windowsill!
Sponsored Links / Ads