Green Smoothie Featuring Chia Seeds
Yields about 4 cups
Drinking green smoothies, which combine green leafy vegetables with sweet fruits, is one of the easiest ways to increase your vegetable (and fruit) intake. In this green smoothie, nutrient-packed baby spinach comes together with juicy mango and invigorating kiwifruit. This recipe also calls for a ripe banana, which adds creaminess to the blend, as well as chia seeds, which are loaded with health-boosting omega-3 fatty acids. Chia seeds, which are relatively new to the world food market, may not be available at your local grocery store, but you can usually find them at health food stores, or you can buy chia seeds online.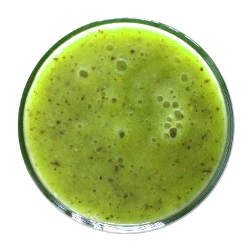 Ingredients
1 Tbsp chia seeds
1 mango
2 kiwis
1 small banana
1 ½ cups baby spinach
1 cup cold water
Crushed ice (optional)
Directions
Let the chia seeds soak in cold water for 10 minutes. Meanwhile, peel all the fruits and remove the stone from the mango. Rinse the baby spinach.
Cut all the fruits into large chunks, and place them in a blender, together with the soaked chia seeds, baby spinach and 1 cup of water. Add crushed ice, if using.
Blend until the smoothie is nice and creamy.
Serve immediately. This recipe yields about 4 cups (32 fl. oz.)
Don't Miss This

Meet the Smart Food Scales That Show Nutrition Facts
Instead of just weighing foods, these smart kitchen scales also provide nutritional information.
More to Explore
Book You May Like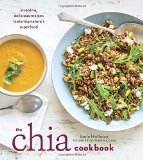 Janie Hoffman is the founder of Mamma Chia, a leading producer of chia-based foods and beverages. In her much-anticipated book,
The Chia Cookbook
, Hoffman teaches the reader how to incorporate chia seeds into everything from smoothies and snacks to salads and desserts. To learn more about this mouthwatering collection of recipes, go to
Amazon.com
,
Amazon.co.uk
or
Amazon.ca
.