Kale and Blueberry Smoothie (Rich in Antioxidants)
Serves 2
One easy way to incorporate kale into your diet is to use it in green smoothies. But if you've ever tried using kale in smoothies, you probably already know that it can be tricky to prevent the somewhat peppery flavor of kale becoming overpowering. To tone down the strong flavor of kale, this super-healthy smoothie calls for antioxidant-rich blueberries and pomegranate juice, both of which do a pretty good job at masking the flavor of kale. However, if you feel the flavor of kale is still too much for you, here a couple of things you may want to try next time:
Use frozen kale instead of fresh kale. Frozen kale is less smelly and tastes less bitter. Plus, using frozen kale helps make the smoothie colder!
Instead of curly kale, use baby kale or lacinato kale (aka Tuscan kale or dinosaur kale) which have a milder flavor.
Start with a lower kale to berries/juice ratio and work your way up to more greens and less fruit over time as you get used to the 'green' flavor.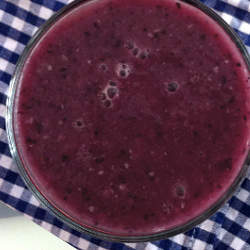 Ingredients
1 large ripe banana, peeled and sliced
1 cup shredded organic kale leaves, rinsed
1 cup frozen blueberries, rinsed
¾ cup pure pomegranate juice [Buy It]
¾ cup filtered water
Directions
Place the sliced banana, kale leaves, frozen blueberries, pomegranate juice and water in a high-powered blender. Blend until smooth.
Check the consistency of the smoothie. If necessary, add a bit more water and blend again. Serve immediately.
Book You May Like

Superfoods at Every Meal
is jam-packed with
extra nutritious recipes featuring blueberries, kale and eight other readily available superfoods
. Each recipe features at least two (but oftentimes even four or five) of the author's 10 favorite superfoods: quinoa, kale, sweet potatoes, blueberries, eggs, chickpeas, honey, greek yogurt, coconut oil and walnuts. To learn more about this compelling cookbook, go to

Amazon.com
or

Amazon.co.uk
.
Sponsored Links / Ads