Hamilton Beach Motorized Spiralizer – Review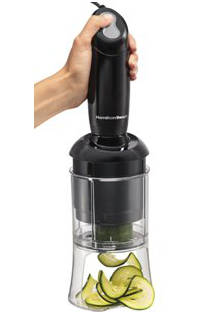 There are already plenty of motorized vegetable spiralizers and zoodle makers out there, but finding the best electric spiralizer model for you can be a daunting task. In this review, we take a look at some of the pros and cons of the Hamilton Beach 3-in-1 Spiralizer to help you evaluate whether this model could be a good option for you and your family.
Pros
The Hamilton Beach Spiralizer helps you make guilt-free meals
Using the Hamilton Beach Spiralizer to transform vegetables like zucchini, yellow squash, sweet potato, carrots, beets and turnips into noodle-like strips, curly spiral slices and grates is an easy, fun and healthy way to prepare vegetables. And, as these vegetable "noodles", slices and grates are made of fresh, unprocessed vegetables, they are perfect for almost any diet, including low carb, raw food, paleo, gluten-free and grain-free diets.
It is equipped with a motor, which eliminates the need for manual cranking
Using a traditional hand-crank spiralizer to prepare vegetables can be time-consuming and cumbersome. Equipped with a motor and two speed settings, the electric Hamilton Beach Spiralizer eliminates the need for manual cranking and makes spiralizing, slicing and grating vegetables and fruits simple and quick.
Cons
This spiralizer requires the vegetables to be the perfect size and perfectly placed
If you have looked at the reviews of this spiralizer on Amazon, you may have noticed several people complaining about the level of precision needed to prepare the vegetables and to operate this machine. If the vegetables are too big or too small, or if you don't apply the right amount of pressure on the handle, you will likely be disappointed. According to the user manual provided by Hamilton Beach, the foods should be firm , 1 to 3 inches in diameter, and not longer than 2 1/2 inches (larger foods can be cut to fit). It is also important that you place the food as precisely in the center of the food chamber as possible.
Although this spiralizer comes with three discs, it has only one disc for creating "noodles"
If you are looking for a spiralizer than can turn vegetables into "noodles" of various sizes and shapes, then you should probably not get the Hamilton Beach 3-in-1 Spiralizer. Although it has three discs (blades), it has only one disc for making "noodles" (the other discs can be used to make spiral ribbons and to grate foods). If you are looking for an electric spiralizer that has more than one disc for creating noodle-like strips, you might want to check out the Oster Spiralizer, which has both spaghetti and fettuccine blades, and the KitchenAid Spiralizer Attachment which comes with a range of blades for making veggie "noodles".
You May Also Like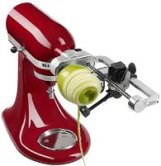 Do you love the idea of having an automatic spiralizer but don't have the space in your kitchen to accommodate a stand-alone spiralizer? The good news is that if you already have a KitchenAid stand mixer, all you need to do is get a small spiralizer attachment, and
your KitchenAid will turn into a multi-functional electric spiralizer
! To learn more about this neat tool,
click here
.