Review
6-in-1 Black+Decker Spiralizer (SFP1000-B): Pros & Cons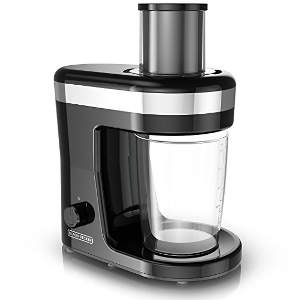 More and more grocery stores are carrying spiralized vegetables, but they can be very expensive. That's where electric spiralizers, like the 6-in-1 Black+Decker Spiralizer, come in! These motor-operated spiralizers turn firm vegetables such as zucchini, sweet potatoes and carrots into nutrient-packed low-carb "noodles" in a matter of seconds. And, some of the best spiralizers come with additional blades that allow you to cut vegetables into other shapes as well. Here, we take a look at some of the pros and cons of the electric Black and Decker Spiralizer SFP1000B (aka Spira-Luxe or SFP1000B) so you can decide whether this automatic spiralizer is the right addition to your kitchen.
Pros of Getting the Electric Black+Decker Spiralizer
Using the Black+Decker Spiralizer makes eating vegetables more fun
Using the 6-in-1 Black+Decker Spiralizer (SFP1000B) to cut vegetables and fruits into spirals, slices, ribbons and wavy cuts is a fun way to prepare vegetables and to incorporate more healthy foods into your diet. And, as these fun shapes are made of fresh, unprocessed vegetables and fruits, they are perfect for all sorts of diets, including low-carb, raw food, gluten-free and paleo diets.
Spiralizing vegetables with the Black+Decker Spiralizer requires little manual work
Even the best manual spiralizers can be tedious to operate, especially if you need to process a lot of vegetables for a big group of people. Equipped with a 100-watt motor and sharp blades, the Black+Decker Spiralizer makes spiralizing quick and easy. To process vegetables or fruits with this electric spiralizer, all you have to do is prepare the vegetables, turn on the machine, and guide the vegetables or fruits through the feeder chute.
The Black+Decker Spiralizer comes with 6 blades
Along with the electric Cuisinart Spiralizer, the 6-in-1 Black+Decker Spiralizer is one of the most versatile electric spiralizers sold in the US and Canada. It comes with 6 dishwasher-safe blades, opening up a whole new world of healthy and inventive recipes for busy professionals, families and people with allergies and other food restrictions:
Thick and thin noodles blades: Use the thick and thin noodle blades for creating nutritious, low-carb "pasta" dishes.
Thick and thin slicing blades: Prepare vegetables fast for a variety of dishes using the thick and thin slicing blades.
Ribbon blade: Use the ribbon blade to create gorgeous plate presentations that are sure to wow your guests.
Wavy cut blade: Make homemade vegetable chips using the wavy cut blade.
Cons of Getting the Black and Decker Spiralizer
It's not exactly the cheapest electric spiralizer out there
If you're on a limited budget, you might want to consider getting another spiralizer. With the ability to produce 6 different types of cuts, this 6-in-1 spiralizer/slicer is not exactly the cheapest spiralizer out there (you can check the current Amazon price here). On the other hand, the Black+Decker Spiralizer is also not the most expensive electric spiralizer on the market, and if you're looking for a multi-functional kitchen gadget that does more than just spiralizes vegetables, this little kitchen workhorse might be a good choice for you.
The vegetables you want to process have to be the right size and shape
Like other motor-operated vertical spiralizers, the 6-in-1 Black+Decker Spiralizer has a feeder chute, and if the vegetable you want to process doesn't fit into the chute, you will have to pre-cut it before you can push it through the chute. On the plus side, the feeder chute of the Black+Decker Spiralizer is relatively wide compared with many other electric spiralizers in the same price range.