Blender Reviews
FreshVac Pump Turns Ninja Blenders into Vacuum Blenders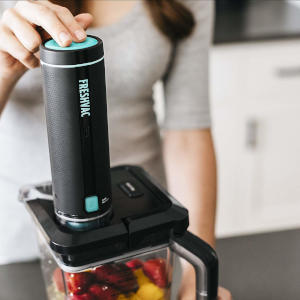 Meet the FreshVac, a vacuum pump designed to transform compatible Ninja blenders into high-tech vacuum blenders. As the FreshVac Pump sucks out oxygen and locks in vitamins and antioxidants, your smoothies will turn out extra-smooth and nutritious.
How the FreshVac Pump Works
The FreshVac Pump sucks out air from the blending pitcher or cup before you start blending. All you have to do is set the FreshVac Pump on top of the blending container of your Nutri Ninja BL580, Ninja Smart Screen Blender DUO CT661V, or Ninja Smart Screen Kitchen System CT672V, and then press the vacuum button to remove oxygen and seal the container. As many nutrients are easily degraded by oxygen, the lack of air in the blending container may help produce more nutritious smoothies. That's arguably the biggest benefit of using a blender equipped with a vacuum pump.
Nutritional factors aside, the low-oxygen environment in the blending container of your Ninja vacuum blender also helps protect the color of your smoothies. By contrast, when you make smoothies in a blender that does not use vacuum technology, such as the Ninja Chef CT805, smoothies tend to lose their vibrant colors if you don't drink them right away, especially if they contain fast-oxidizing ingredients like apples, avocados or bananas.
What's more, smoothies made in a FreshVac blender do not contain tons of tiny bubbles of mixed-in air which turn regular smoothies foamy. The Ninja vacuum blenders also emulsify ingredients better, so you should notice less separation of water from the other components that make up your smoothie.
Which FreshVac Ninja Vacuum Blender Should You Buy?
From compact personal blenders that make single-serve smoothies to full-sized kitchen systems that take your meal prep abilities to the next level, Ninja has several options available for those who want to buy a blender with a vacuum pump. To help you figure out which product best suits your needs, here's a feature-by-feature comparison of Ninja Smart Screen Blender DUO with FreshVac (CT661V) vs. Ninja Smart Screen Kitchen System with FreshVac (CT672V) vs. Nutri Ninja with FreshVac Technology (BL580):
| Model | Watts (peak) | Auto / manual programs | Food processor (not FreshVac compatible) | 72 oz FreshVac pitcher (BPA-free)* | FreshVac single-serve cups |
| --- | --- | --- | --- | --- | --- |
| Ninja CT661V | 1400 W | 7 / 3 | No | Yes | Two 20 oz cups |
| Ninja CT672V | 1400 W | 9 / 3 | Yes | Yes | Two 20 oz cups |
| Ninja BL580 | 1100 W | 2 / 2 | No | No | Two 24 oz cups |
* 64 oz. max. liquid capacity
The most notable difference between the Ninja CT661V and CT672V is that the CT672V (Ninja Smart Screen Kitchen System with FreshVac) includes a food processor attachment (not compatible with the FreshVac pump), in addition to the 72 oz FreshVac blender pitcher and the 20 oz single-serve FreshVac cups. The Ninja Smart Screen Blender DUO with FreshVac (CT661V), by contrast, only comes with the pitcher and the single-serve cups.
Unlike the CT661V and CT672V, the Nutri Ninja BL580 with FreshVac Technology does not come with a pitcher – only 24 oz blending and serving cups. This makes it a good choice for those with limited countertop and storage space. Also those who are looking for something a bit cheaper than a full-size blender or kitchen system might find the price tag of the Nutri Ninja BL580 more attractive. You can check the current price of the Nutri Ninja BL580 on Amazon here.
Ninja's FreshVac Blenders vs Other Vacuum Blenders
When you read reviews of Ninja blenders, you rarely see complaints about their capability to produce smooth results. While the Ninja CT661V, CT672V, and BL580 do not have as much power (in terms of wattage) as some other popular vacuum blenders, such as the Tribest Dynapro or Kuvings' SV500-S Vacuum Blender, they seem to be powerful enough to process even tricky ingredients like ice cubes, frozen fruit and fibrous vegetables such as kale or broccoli.
One of the downsides of getting a powerful vacuum blender, whether it's a Ninja FreshVac vacuum blender or the Tribest Dynapro, is that it can be quite loud. That said, there are some exceptions. For example, despite being equipped with a 3.5 peak horsepower motor, the Kuvings SV-500 Vacuum Blender won't send the noise level through the roof because it has a smart noise reduction cover which dampens the noise caused by high-speed blending.
Another difference between the Ninja FreshVac vacuum blenders and the highly-rated (and priced) Kuvings SV-500 blender is that Ninja blenders come with a separate pump that can be used to suck the oxygen out, while the Kuvings SV-500 has a built-in vacuum mechanism.
Finally, the best vacuum blenders often come with high price tags, with some of them commanding prices in excess of $500. Compared with these expensive kitchen gadgets, the Ninja FreshVac vacuum blenders are actually quite reasonably priced, even the fancy Ninja CT672V with the food processor attachment. Here are the current Amazon prices for the Ninja CT672V and the Ninja CT661V: