Blender Review
Ninja Chef CT805: A 1500-Watt High-Speed Blender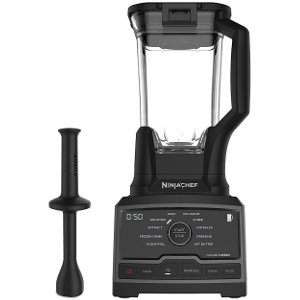 With a 1500-watt motor, 10 pre-programmed cycles, and a variable speed dial, the Ninja Chef CT805 High-Speed Blender has to be one of the most versatile mid-priced blenders out there. Read on to learn more about the pros and cons of this kitchen workhorse, or check it out on Amazon.
Pros
It blends tough ingredients with ease
With its 1500-watt motor, the Ninja Chef CT805 is comparable to many Vitamix blenders in terms of power. Thanks to its strong motor and next-generation high-speed blade design, the Ninja Chef CT805 Blender crushes and blends even the toughest ingredients with ease. Whether you throw in nuts, ice, frozen fruit, or fibrous green leafy vegetables, the Ninja Chef CT805 can take on the task, blending the ingredients into a smooth consistency in a snap.
It features 10 pre-programmed cycles
Just like the popular Ninja AMZ012BL and Ninja CT682SP blenders, the Ninja Chef CT805 has been designed to take the guesswork out of making great blends with its pre-programmed Auto-IQ cycles. Each of these cycles uses a unique set of pulsing, pausing and blending patterns to make it as easy as possible for you to create blends with perfect textures. Here's an overview of the pre-programmed cycles of the Ninja Chef CT805 Blender:
Smoothie
Soup
Extract
Frozen Drink
Flour/Mill
Ice Cream
Puree
Dip/Salsa
Dressing
Nut Butter
Its manual mode gives you complete control
Having a blender with pre-programmed cycles is great if you don't like to experiment in the kitchen, or if you like to be able to do other things while your blender takes care of creating perfectly-blended drinks and meals. However, sometimes you may want to have more control over the blending process and to be able to adjust the speed and blending time yourself. Now, that's where the Manual Mode dial of the Ninja CT805 Blender comes in! With speed settings from 1 to 10, you can manually set the speed between 7,000 and 18,000 RPM, and stop the blending process whenever you like.
It comes with a large, BPA-free container
The Ninja Chef 1500-Watt High-Speed Blender CT805 comes with a large, 72-ounce blending container with a maximum cold liquids capacity of 64 ounces (the maximum hot liquids capacity is 36 ounces). What's more, the container is free from Bisphenol-A, or BPA. For those who missed the memo, BPA is a controversial chemical that has been shown to have estrogen-mimicking properties, which raises concerns about its safety in some consumer products. Despite these concerns, the U.S. Food and Drug Administration (FDA) says that as of now, there is not enough evidence to suggest that normal use of products containing BPA poses a health risk. However, many consumers think it's better to err on the side of caution and to buy BPA-free products whenever possible.
It's reasonably priced
Often marketed as a cheaper alternative to Vitamix blenders, Ninja blenders typically come with very reasonable price tags. Yet, many of them, including the Ninja Chef CT805, feature extra-powerful motors and precision-engineered blades that make short work of hard-to-blend ingredients like cubed ice, nuts and fibgrous vegetables. You can view the current price of the Ninja Chef CT805 on Amazon by clicking here.
Cons
It's not a vacuum blender
Despite being quite a technologically-advanced blender in many ways, the Ninja Chef CT805 does not use vacuum technology unlike some competing blenders such as the Tribest Dynapro or the Kuvings SV-500-S Blender. Vacuum blenders remove oxygen from the blending container before you start blending, which in turn eliminates one of the biggest problems in blending – the considerable loss of nutrients and antioxidants caused by exposure to oxygen during the blending process and subsequent storage. By contrast, when you use a non-vacuum blender such as the Ninja Chef CT805 to whip up a smoothie, you may lose quite some nutrients, especially if you don't drink the smoothie right away.
The container is made of plastic
More and more health-conscious consumers are buying non-toxic kitchen appliances made from glass and other materials that cannot leach controversial chemicals, such as BPA, into their foods and drinks. Although the container of the Ninja Chef CT805 Blender is BPA-free, it is still plastic, which means this blender may not be the best blender for those who want to avoid plastic as much as possible. However, the problem is that almost all high-speed blenders of this caliber come with containers that are made of Tritan, a type of plastic. Tritan is famous for being impact- and shatter-resistant, which is why it is so popular among manufacturers of blenders with fast-spinning blades.
It's quite bulky
If you are looking for a compact blender that is easy to move around, or to store in a small kitchen cabinet, this 1500-Watt Ninja blender is probably not the right choice for you. Measuring 8.4 x 9.7 x 18 inches and weighing over 10 pounds, the Ninja Chef CT805 is quite a bulky blender, and the fact that is has suction cup feet designed to keep it in place does not make it any easier to move it around.
Some people find it too loud
Yet another negative aspect that sometimes pops up in user reviews of the Ninja Chef CT805 is that it is quite loud (you can read those reviews here). However, that is hardly surprising given that the Ninja Chef CT805 is high-speed blender with a 1500-watt motor. Unless you get a high-speed blender with a special sound shield, such as the Kuvings SV-500 Blender or the Vitamix Quiet One, you can expect quite some noise, especially when you are processing hard ingredients like ice, nuts, or frozen fruits.