Blender Reviews
Glass Vacuum Blender by Tribest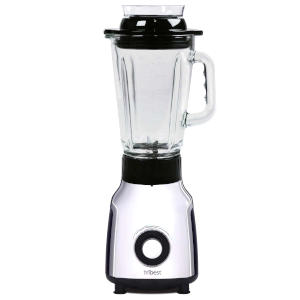 Vacuum blenders are booming in popularity among health-conscious foodies, and now you can even get a vacuum blender with a glass pitcher. With the Tribest PBG-5001 glass vacuum blender, you will be able to create fresh-tasting, extra-nutritious smoothies safe in the knowledge that your drinks won't absorb toxic chemicals or unpleasant odors from the blending container.
Why Get a Vacuum Blender
The Tribest PBG-5001 Vacuum Blender comes with a battery-operated vacuum pump which you can use to remove air from the 42-ounce glass pitcher before you start blending. As certain nutrients and antioxidants are relatively easily degraded by exposure to oxygen, the lack of air in the glass blending jar may help produce healthier smoothies. That's arguably the biggest benefit of getting a vacuum blender instead of a regular blender.
But, that's just one of the many benefits of blending smoothies in vacuum. The low-oxygen environment in the glass container of your Tribest PBG-5001 Glass Vacuum Blender can also helps protect the color of your smoothies. By contrast, smoothies made in a regular blender tend to lose their vibrant colors if you don't drink them right after blending, especially if they contain fast-oxidizing ingredients such as apples or bananas.
Smoothies made in a vacuum blender also typically beat regular homemade smoothies in terms of texture because they don't contain those tiny bubbles of mixed-in air that make regular smoothies foamy. Plus, vacuum blenders emulsify ingredients better, so you should notice less separation of water from the lighter components if you let the smoothie rest before drinking it.
Meet the Tribest PBG-5001 with Vacuum Pump, the First Glass Vacuum Blender
There are already tons of great vacuum blenders available on the market, but like other blenders, they typically come with pitchers and cups that are made of plastic. However, some health- and eco-conscious consumers might prefer to have a vacuum blender with a glass pitcher, which is why Tribest Life came with the idea of introducing the first glass vacuum blender.
The Tribest Glass Vacuum Blender PBG-5001 comes with a 42-ounce tempered glass container equipped with a vacuum lid, and a battery-operated vacuum pump. Because it is made of glass, the pitcher is inert and non-toxic, and it is easy to clean and maintain. It also won't taint your smoothies with a plastic or metal taste, even if you store them in it.
When you buy the Tribest PBG-5001 with Vacuum Pump, you typically also get a single-serve glass cup as a bonus. Note, though, that the single-serve cup does not have a vacuum lid and is not compatible with the vacuum pump. To learn more about what you get when you buy the Tribest PBG-5001 Vacuum Blender, check out the product page and reviews on Amazon.
Other Tribest Blenders to Consider
If you like small kitchen appliances that are made of glass and blenders that use vacuum technology, the Tribest PBG-5001 Glass Vacuum Blender is probably the best Tribest blender for you. However, before you make up your mind, there are a couple of other interesting Tribest products you might want to have a look at.
While it does not come with a glass pitcher, the Tribest Dynapro Vacuum Blender has received great reviews, and it comes with a large 64-ounce container that is BPA-free. One of the main differences between the Tribest Dynapro and the Tribest PBG-5001 Vacuum Blender is that with its 2.5 HP motor, the Dynapro is much more powerful than the Tribest PBG-5001.
Another blender worth checking out is the Tribest PB-350, a mason jar blender which is compatible with most regular-mouth Mason glass jars and mugs. While it does not use vacuum technology, this single-serve glass blender is a great blender for busy people because it allows you to blend right inside the same jar you drink out of, which means less hassle and fewer dishes to wash.