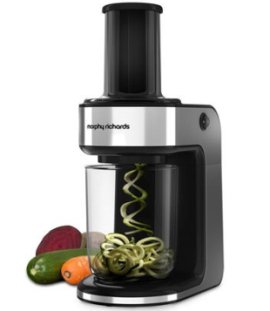 Morphy Richards Electric Spiralizer Express – Review
If you love courgetti and vegetti (mock spaghetti made of courgettes and other vegetables) but don't like that hassle that comes with using a traditional hand-crank spiralizer, then you should definitely check out the Morphy Richards Spiralizer Express 432020. Along with the Kenwood Spiralizer and a couple of other models, this motor-operated spiralizer was one of the first electric spiralizers to hit the shelves in the UK. To learn more about this automatic courgetti/vegetti maker and its pros and cons, keep reading.

Check Price on Amazon.co.uk
Pros of Getting the Morphy Richards Spiralizer Express
The Morphy Richards spiralizer makes vegetables more interesting
Perfect for people who want to make healthy foods more interesting and fun to eat, the Morphy Richards spiralizer Express turns boring vegetables like courgette into imitation noodles within seconds. Spiralised vegetables make a healthy substitute for pasta, but they are also perfect for salads, soups and stir-fries. And, as these mock noodles are made of fresh, unprocessed vegetables or fruits, they are perfect for almost any diet including paleo, gluten-free, low carb and raw food diets.
It is equipped with a motor, which eliminates the need for manual cranking
Making vegetable "spaghetti", or vegetti, with a manual spiralizer can be hard on your hands and arms, and it takes a long time. The motor-operated Morphy Richards spiralizer Express eliminates the need for manual cranking and makes spiralising quick and easy. Simply choose your vegetable or fruit, ensuring it has the right size, shape and texture, and guide the vegetable or fruit with light force down the chute using the plunger when the machine is switched on. Within seconds, your spiralized food will collect in the beaker ready to serve or cook.
Cons of Getting the Electric Morphy Richards Spiralizer
The vegetable you want to spiralise has to be the perfect size and have the right texture
If you have read the reviews of this spiralizer on Amazon, you already know that this is not an all-around spiralizer that works well on vegetables of all sizes and textures. If the vegetable is too big or too small, or if it is too soft or too hard, the Morphy Richards spiralizer Express won't be able to turn it into beautiful spirals. It is worth noting, though, that even best electric spiralizers available at the time of writing usually require the vegetables to be of a certain size, shape and texture.
This spiralizer comes with only two interchangeable blades
If you are looking for a spiralizer with tons of blades for producing different-sized spirals, then you should probably not get Morphy Richards' electric spiralizer as it has only two interchangeable blades: one for creating spaghetti-like strips and another one for creating thicker, fettuccine-like spirals which the Morphy Richards folks call ribbons. (Tip: If you want to be able to create spirals of many different sizes and have a KitchenAid mixer at home, you might want to check out the KitchenAid Spiralizer Attachment which comes with a whole range of different blades.)

Check out the Morphy Richards Spiralizer on Amazon.co.uk
Sponsored Links / Ads
Related Reviews
Book You May Like
Spiralize Now
, London-based food stylist and recipe writer Denise Smart provides
80 delicious, healthy recipes for your spiralizer
. With recipes ranging from Courgetti with Sundried Tomato Pesto to Courgette-Crust Margherita Pizza to Spicy Potato Curls and Spiralized Root Vegetable Rosti, Denise does a great job showing how to discover the full potential of this surprisingly versatile
kitchen tool
. To learn more about this inspiring cookbook or to buy a copy,
click here
.