75 Anti-Inflammatory Recipes, Plus a Detox Plan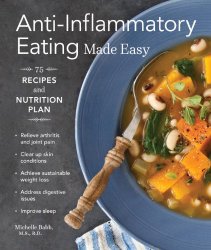 In Anti-Inflammatory Eating Made Easy, Seattle nutritionist Michelle Babb serves up a collection of delicious anti-inflammatory recipes, all featuring wholesome ingredients that are thought to reverse chronic inflammation. Available both as a paperback and a Kindle ebook on Amazon.com, Amazon.co.uk and Amazon.ca, this approachable cookbook teaches cooks of all levels how to get delicious anti-inflammatory meals on the table, any time of day. To learn more about this fascinating volume, keep reading.
Not to Be Missed: Anti-Inflammatory Eating Made Easy by Michelle Babb
Michelle Babb is a registered dietitian and certified nutritionist, and she holds a master's degree in nutrition from Bastyr University. In Anti-Inflammatory Eating Made Easy, this Seattle-based nutrition expert showcases 75 easy anti-inflammatory recipes, so whether you're an accomplished cook or a complete beginner, you'll be able to create healthy meals that are loaded with anti-inflammatory ingredients. Organized by meal type (breakfast dishes, soups and stews, salads and sides, vegetarian mains, pescatarian mains, hint-of-meat mains and desserts), this cookbook is packed with mouthwatering recipes such as:
Salmon en Papillote with Silky Celery Root Puree
Mediterranean Salmon Skewers
Sizzling Salmon and Quinoa Skillet
Veggie Beef Burger with Rocket Salad
Sweet Potato Shepherb's Pie
So-Easy Coconut Mango Sorber
Mixed Betty Walnut Crumble
Creamy Avocado Spinach Dip
Berry Green Power Smoothie
Quinoa-Stuffed Collard Rolls
In addition to providing a collection of recipes, Anti-Inflammatory Eating Made Easy also contains a number of handy tools to help you adopt Babb's anti-inflammatory diet, including sample menu plans, shopping lists and charts listing essential pantry items. Within these pages, you'll also find information about the optional 21-day nutritional cleanse plan that Babb uses with her clients to help them reduce chronic inflammation and restore the balance in their bodies.
Who is This Cookbook Aimed At?
The easy-to-follow nutrition plan and the unintimidating recipes in this approachable cookbook have been designed specifically for people who suffer from conditions associated with chronic inflammation. In the first chapter of the book, Recognizing and Reducing Inflammation, Babb provides a brief introduction to chronic inflammation and lists common conditions that have been linked to inflammation. These conditions include, but are not limited to:
Allergies
Arthritis
Asthma
Autoimmune diseases
Cancer
Cardiovascular disease
Depression
Eczema
Metabolic syndrome
Obesity
Psoriasis
But before you start using Babb's recipes in an attempt to heal a specific inflammatory condition, you might want to talk to a qualified dietitian or nutritionist first. In some individuals, inflammatory conditions may be caused or aggravated by allergies or intolerances to specific foods, but a registered dietitian or certified nutritionist can help you identify those trigger foods by putting you on a so-called elimination diet. If it turns out that your symptoms are aggravated by an allergy or intolerance to certain foods featured in this cookbook, you or your nutritionist will be able to modify the recipes accordingly.
Anti-Inflammatory Eating Made Easy is available both as a paperback and a Kindle ebook through Amazon.
Sponsored Links / Ads
You May Also Like

Must-Have: Automatic Soup Maker (aka Blender That Cooks)
Why get a regular blender that only makes cold meals if you can have one that also cooks?
More to Explore