Book Review of Don't Throw It, Grow It!
Grow Thriving Indoor Plants From Organic Kitchen Scrap!
The book Don't Throw It, Grow It!: 68 windowsill Plants from Kitchen Scraps will teach you how to turn leftover food and kitchen scraps into a thriving windowsill garden. Planted and cared for, leftover pomegranate seeds, avocado pits, sprouting potatoes, dried peas, and a whole lot of other food scraps will grow into flourishing plants. This inspiring book provides clear planting and growing instructions for just about anything, from ordinary kitchen garbage – such as old potatoes – to seeds and pits of more exotic plants such as litchi, sesame, and avocado. Some of the 68 plants covered in this book are shockingly easy to grow and some can even yield edible produce, while others require more careful nurturing and more time to grow.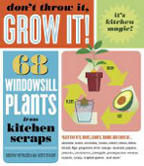 Besides being a fun and rewarding activity, growing vibrant plants from kitchen scraps is economical and can save you a good amount of cash. As you'll be using what would otherwise end up in the garbage bin (or a compost if you're lucky enough to have one), you'll be able to get edible plants and ornamental houseplants at almost no cost.
Aside from leftover produce, there are not many things you'll need to get started, and most of those things you probably already have at home (a sunny window, glass jars, toothpicks, potting mix...). If you don't have a sunny window, you may want to invest in an inexpensive grow light which are available at most gardening centers.
Finally, Don't Throw It, Grow It! will help us step up to our responsibility of fighting against the 'waste culture' that's taking a toll on the environment.
If you live in the US, you can order this book from Amazon.com. UK residents looking to buy this gem of a book can order it here.
Who Should Buy This Book?
A more sustainable and less wasteful way of living should really be the goal of everyone. That said, there are some people who are likely to enjoy this book more than others. They include:
Anyone in interested in edible gardening, self-sufficiency, or environmental sustainability, including those who don't have a garden
Parents who are looking for fun yet educational activities for their families
Classroom teachers who need ideas for new botanical projects and science experiments (that go beyond growing garden cress!)
Those who are looking for a fun and funky gift for a friend or family member interested in growing their own food and/or houseplants
Those who just need a little bit of inspiration – and some instructions – to finally get their inner green thumb out!
What to Expect From This Book?
In Don't Throw It, Grow It!, gardening expert Deborah Peterson teaches you how to use leftover foods and kitchen scraps – roots, seeds, pits, and other organic material – to grow food-producing plants and ornamental houseplants. Her book covers an impressive array of plants – from vegetables, fruits, and nuts to herbs, spices, and exotic plants. Here are a few examples from each category:
Plants from vegetables
Plants from fruits and nuts
Plants from herbs and spices
Exotic plants
Bean
Beet
Carrot
Chickpea
Garlic
Lentil
Onion
Pea
Potato
Radish
Sweet potato
Turnip
and more!
Almond
Avocado
Citrus
Fig
Kiwi
Mango
Papaya
Peanut
Pineapple
Pomegranate
and more!
Anise
Caraway
Coriander
Fenugreek
Mustard
Sesame
and more!
Cherimoya
Daikon
Ginger
Jicama
Lemongrass
Litchi
Persimmon
Tamarind
Tamarillo
Tomatillo
and more!
The directions Peterson provides are simple, and each plant entry includes the common name, botanical name, plant type (annual, perennial, vine, bush, bulb, or tuber), growing instructions, whether the plant is slow or fast growing, and how much light it needs. The entries for the plants that can be expected to yield edible produce also include a short text on how to eat the fruit or vegetable, or how to cook it.
The easy projects have been marked as such, making it easy for parents and teachers to identify the best botanical experiments for the younger green thumbs among us.
Shortcomings
If you have advanced gardening skills, you may find this book too basic. After all, Peterson puts a lot of effort into explaining why seeds germinate and how they grow, which is great educational material for kids and beginner gardeners, but not something for advanced gardeners. The benefits for experienced green thumbs from this book are pretty much limited to getting inspiration for growing more exotic plants you might have never thought of – or even heard of (ever heard of genip or jicama?).
It is also worth noting that not all projects described in this book will yield edible fruit or veg. Many plants, especially those that need a lot of light and space, will only result in ornamental plants when grown indoors.
What Others Are Saying
Don't Throw It, Grow It! has received an excellent reader rating on the Internet (an average of 4 out of 5 stars on Amazon.com as of the writing of this article), with most reviewers loving the fun factor of this activity book. Here's a round-up of the comments:
Several reviews of Don't Throw It, Grow It! on Amazon.com praise this book as a superb resource for parents and teachers looking for inspiration for fun science projects for kids.
Many reviewers were surprised by how many exotic and unusual plants there are that you can grow yourself from grocery store scraps you would normally discard. Leftover pomegranate seeds, peanuts, ginger, and pineapple seem to have impressed many readers as these plants were frequently mentioned in the reviews.
Some reviewers found the book a valuable tool for gardeners of all ages and skill levels, but many thought it was too simple for serious vegetable gardeners
Some reviewers found the line drawings cute, while others didn't like the artsy illustrations
About the Author and Publisher of This Book
Deborah Peterson – the author of Don't Throw It, Grow It! – is a founder of the Rare Pit & Plant Council and the editor of The Pits newsletter. She has also contributed to the Brooklyn Botanic Garden Handbooks, and has extensive experience in lecturing on gardening topics. Deborah is also the proprietor of Landmark Landscaping and has designed many gardens and private parks in New York and Massachusetts.
Don't Throw It, Grow It! is published by Storey Publishing which prides itself on its mission to serve readers by publishing practical information that encourages personal independence in harmony with the environment.
Get Started With Your Indoor Gardening Success – Order Your Copy Today!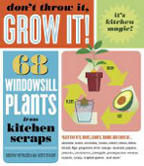 To sum things up, Don't Throw It, Grow It! is a fun book that will get both adults and kids excited about growing food and houseplants. The simple instructions and illustrations in the book will help you get started in no time, and you'll get to watch some of the most exotic plants grow and flourish in the confines of your own kitchen or living room!
So stop wasting time (and kitchen scraps!) and order this little gem of a book today from Amazon.com (

if you live in the US) or from Amazon.co.uk (

if you live in the UK).