Meat Slicers with Built-in Sharpeners – Comparison
A semi-automatic meat slicer with a stainless steel blade is an invaluable part of any serious cook's kitchen equipment line-up, but in order for the cook to see the benefits, the blades must be kept sharp. No matter how good the slicer, it won't perform its tasks the way it should if the blades are dull. Small deli meat slicers designed for home use usually have to be sharpened manually with a separate blade sharpener, but some of the more advanced meat slicers come with built-in sharpeners, making the process quick, easy and safe. In this review, we compare some popular motor-equipped meat slicers that come with built-in sharpening stones to help you find the best slicer for your purposes and budget. The brands covered include Presto (by the MVP Group, headquartered in Montreal, Canada), Chef's Choice (a brand of the Pennsylvania-based EdgeCraft Inc.) and AdCraft (by Admiral Craft, a New York based company).
Disclosure: This page contains "affiliate links", which means that if you buy an electric slicer or another product using those links, the author of this article will receive a small commission (without any extra cost on your part).
Built-in Sharpening Stones Make Blade Maintenance All But Effortless
Semi-automatic meat slicers with built-in sharpeners make blade maintenance convenient and safe, and you don't have to worry about losing the sharpener as it has been built into the machine. In most cases, all you have to do is make sure the grinding stones or whetstones are positioned correctly and press a button or two, and the machine will automatically grind and hone the edges of the stainless steel blade. After the sharpening operation, which usually lasts no more than a couple of minutes, you'll probably have to clean the blade manually, though (for instructions on how to do this, check out the user manual or instruction booklet that was supplied with your machine).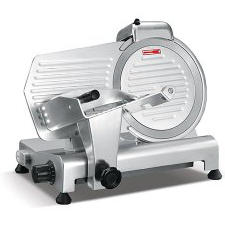 Comparison of Select Models with Built-in Sharpeners
At this point, it is clear that meat and food slicers with built-in sharpening stones make blade maintenance all but effortless, compared with machines that are not equipped with built-in grinding stones. That, however, doesn't necessarily mean that you should get one of these advanced models: in many cases, electric slicers with on-board sharpening systems are quite pricey (commanding prices in the thousands of dollars), as they are often designed for commercial or other heavy duty use. That said, there are also some cheaper (albeit not cheap) models that may be better suited for home kitchens – and your budget. Below, we compare some popular electric meat slicers that come with built-in sharpeners and that are suitable for light to medium duty meat slicing tasks, both at home and in small commercial kitchens.
Note: The models included in the comparison chart below – the Presto PS-10 (pictured above), Adcraft SL300ES and Chef's Choice 667 slicers – have been designed for the North American market and are available in the US through Amazon here.
| | | | |
| --- | --- | --- | --- |
| | Presto PS-10 | Chef's Choice 667 | AdCraft SL300ES |
| Amazon deal (price in US$) | | | |
| Built-in sharpener | Yes | Yes | Yes |
| Approximate weight | 28 pounds | 31 pounds | 61 pounds |
| Motor in horsepower (HP) | 1/4 HP | 1/4 HP | 1/3 HP |
| Material | Metal | Metal | Metal |
| Blade diameter | 10 inches | 10 inches | 12 inches |
| Slice thickness | Adjustable | Adjustable | Adjustable |
| ETL Listed* | Yes (ETL) | Yes | Yes (ETL) |
| More info (detailed specs, user reviews, etc.) | Click here | Click here | Click here |
*Products that bear the ETL Listed Mark have been independently tested for compliance with North American safety standards.
Sources: Product descriptions on Amazon and manufacturers/suppliers' websites, November 2014