SoyaJoy G4: Soy Milk, Soup and Nut Milk Maker in One
Back in the late 1990s, Sanlinx Inc. introduced the original SoyaJoy soy milk maker, concurrently creating a whole new category of small kitchen appliances. Since then, the company has introduced a number of new models, including the SoyaJoy G4 – a new-generation nut, grain and soy milk maker that also whips up soups and porridges! Below, we take a look the some of the most important features and functions of this versatile kitchen workhorse.
Incredible Versatility
Although usually categorized as a soy milk maker, SoyaJoy G4 is far from being a uni-tasker. It is a multi-purpose kitchen appliance that, thanks to its built-in heating element, razor-sharp blades and filter-less design, creates a multitude of drinks and liquid foods without creating unnecessary mess. Here's a rundown of some of the foods and drinks you will be able to make with the SoyaJoy G4:
1. Thoroughly cooked soy milk
Creamy homemade soy milk is of course the most obvious thing you can make in a SoyaJoy. The G4 model, which is essentially an upgraded version of the earlier G3 model, features an enhanced cooking cycle designed to improve both the taste and digestibility of the soy milk it creates. This means soy milk is cooked for over 20 minutes at above 200°F to ensure that enzyme inhibitors are inactivated.
2. Grain milks and porridges
Brown rice milk, hemp milk, oat milk – alternatives to cow's milk are many and varied. Unfortunately, specialty "milks" can be expensive, plus they often contain additives that you are perhaps trying to avoid. The solution? Start making your own grain milks! With the SoyaJoy G4, you'll turn grains like oats, quinoa, hemp seeds and rice into flavorful, additive-free grain milks and porridges in a matter of minutes.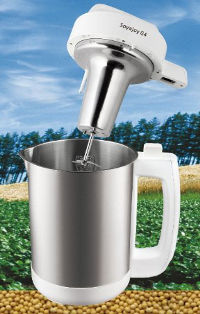 SoyaJoy G4 available through Amazon here
3. Nutritious nut milks
Over the past decade, nut milks have become increasingly popular among health-conscious consumers. But just like other non-dairy milks, these specialty products are often rather expensive and difficult to find (unless you are looking for almond milk which is now widely available in health food stores across the US, Canada and the UK). With the SoyaJoy's G4 you'll also turn nuts into flavorful non-dairy milks. And there's no need to stick to common nuts like almonds – less obvious choices such as cashew nuts, macadamia nuts and hazel nuts also yield delicious milks!
4. Delicious soups from scratch
The SoyaJoy G4 is not just for making non-dairy milks at home, it is also perfect for creating puréed soups. All you need to do is prepare the ingredients and throw them into Soyajoy's stainless steel pitcher, and this kitchen workhorse will take care of the rest.
Stainless Steel Construction
The SoyaSoy G4 is a great choice for those who are looking for a BPA-free soup maker or soy milk maker as it is 100% stainless steel on the inside. As you may already know, BPA, which stands for Bisphenol-A, is a harmful chemical that may leach into foods and drinks that are prepared or stored in plastic, or plastic-lined, containers. BPA has been shown to interfere with the production and function of hormones in the human body, and studies have linked high exposure to BPA to everything from asthma, neurological disorders and diabetes to polycystic ovary syndrome (PCOS), fertility problems and cancer.
User Reviews
The SoyaJoy G4 non-dairy milk and soup maker has received a lot of excellent reviews on Amazon, with many people praising it for its ease of use. Many (but not all) reviewers also find the machine very easy to clean. On the negative side, several people point out that the SoyaJoy G4 is not insulated, which means that you will have to be careful not to touch the stainless steel container during the cooking process. Another feature that some may see as a shortcoming is the filter-less design, which means that you will have to manually strain the cooked mixture (if you want a soy milk maker that also strains the milk for you, check out Soyabella's soy milk maker with a built-in filter). On the other hand, the filter-less design is precisely what makes the SoyaJoy G4 so versatile, allowing you to make puréed soups and porridges in addition to non-dairy milks.
View SoyaJoy G4 on Amazon