Weekly Smoothie Challenge
Green Smoothie with Broccoli Sprouts and Avocado
2 Servings
Don't be intimidated by the broccoli sprouts in this green smoothie – the freshly-pressed orange juice and kiwis are very good at masking the distinctive flavor of broccoli sprouts! This recipe also calls for ripe avocado which lends an amazing amount of creaminess to the blend.
Note: The substitute suggestions in the Tweak It! box at the bottom of this page ensure that with small tweaks to the basic recipe shown below, you can create a new culinary sensation for every day of the week!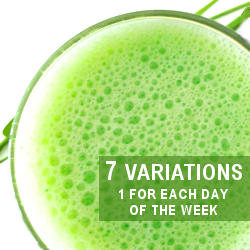 Ingredients
1 medium-sized organic avocado
2 organic kiwis (Day 1)
1/2 cup broccoli sprouts or microgreens
1 Tbsp sunflower seeds
1/2 cup crushed ice
1 1/2 cups freshly-pressed orange juice
Honey, optional
Directions
Peel and pit the avocado, peel the kiwi, and rinse the broccoli sprouts or microgreens thoroughly under cold running water.
Place the avocado, kiwis, sprouts (or microgreens), sunflower seeds, orange juice and crushed ice in a large-capacity blender, and blend until smooth and creamy. Note: If you're using a high-powered blender that can handle ice cubes, you can replace the crushed ice with eight whole ice cubes if you like.
Check the consistency of the smoothie. If it's is too thick for your liking, add a little bit of filtered water and blend until smooth.
Check the flavor. Add a little bit of honey, if desired, and blend for a few more seconds.
Pour into glasses, garnish as desired, and serve.
Tip: Enjoy a slightly different version of this green smoothie every day the rest of the week by each day replacing the kiwis in the basic recipe with one of the other ingredients listed in the Tweak It! box below.
Tweak It!
Day 1
Day 2
Day 3
Day 4
Day 5
Day 6
Day 7
2
kiwis
1
orange
1
pear
2
mandarines
1
green apple
1
yellow bell pepper
5 oz
fresh pineapple