Weekly Smoothie Challenge
Very Cherry Smoothie with Coconut Water
2 Servings
Sweet cherries may be the star of this week's smoothie, but this gorgeous red concoction also contains many other nutritional powerhouse ingredients, including coconut water and sunflower seeds. The basic recipe shown below uses banana chunks for creaminess, but it doesn't always have to be bananas! To keep things interesting, check out the Tweak It! box at the bottom of this page which lists six substitutes for the classic banana (one for each day of the rest of the week).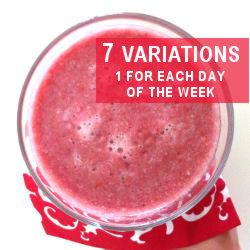 Ingredients
1 banana (or another ingredient from the Tweak It! box below)
1 cup sweet cherries
1 1/2 cups coconut water
1 Tbsp sunflower seeds
Scant 1/2 cup crushed ice
Honey, to taste
Directions
Peel the banana and break it into large chunks so that it fits into the blender.
Rinse the cherries thoroughly. Remove the stones either by hand or using a cherry pitter.
Put the banana chunks, sweet cherries, coconut water, sunflower seeds and crushed ice in a large-capacity blender, and secure the lid. Turn the blender on and slowly increase the speed. Blend at full speed for about 1 minute, or until desired consistency is reached.
Check the flavor and consistency. Add honey and water, if needed, and blend for a few more seconds. Pour the smoothie into glasses and serve immediately.
Tweak It!
Day 1
Day 2
Day 3
Day 4
Day 5
Day 6
Day 7
1
banana
1
avocado, peeled & pitted
1/2 cup
organic yogurt
1/2 cup
cooked, cooled oatmeal
5 oz
cooked, cooled sweet potato
1 cup
mango slices
5 oz
fresh pineapple