Buying Organic Quinoa and Kaniwa Online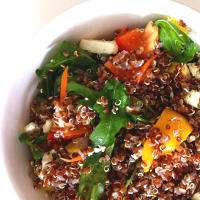 Quinoa and kaniwa, which are naturally gluten-free, are great alternatives to wheat and other gluten-containing grains for people with celiac disease or gluten intolerance. These little seeds native to South America (and yes, they are seeds even though they look like grains) are also extremely nutritious, which is why practically anyone can benefit from using quinoa and kaniwa.
Today, you can find whole quinoa seeds in many grocery stores in the USA and UK. By contrast, kaniwa – which is closely related to quinoa – is still relatively unknown outside of South America, and you may have trouble finding it in the shops. The same goes for some less common quinoa products, such as quinoa flour and flakes.
Furthermore, regular grocery stores often sell only one type of quinoa (usually the white or yellow variety), and those who want to buy black or red quinoa may have to look beyond regular stores.
So, what do you do if you can't find the quinoa or kaniwa products you'd like buy in your local supermarket? You turn to the World Wide Web! Many online retailers and health food stores sell all sorts of quinoa products, from flour to spaghetti, and as knowledge about the health benefits of kaniwa spreads, also kaniwa becomes more available in the USA and UK. Here are a few interesting quinoa and kaniwa products you might be interested in: