Best Bread Machines: Reviews, Comparisons, and More
It can be difficult to choose the right bread machine for you with so many different models available on the market. Here's a straightforward guide to help you find the best bread machine for your kitchen.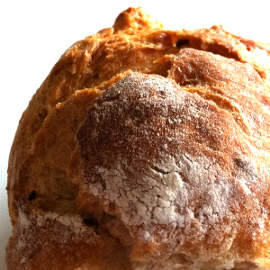 There's nothing quite like the smell of freshly-baked homemade bread. And, if you let a bread machine do the hard work, it takes very little time and effort to make bread at home. In addition, by making your own bread you will have control over the nutritional quality of the finished product: if you use healthy, preferably organic ingredients, your bread will be full of nutritional goodness.
But when it comes to choosing a bread machine, how do you known which model to pick? With so many different brands and models on the market, it can be difficult to decide which bread machine you should buy. In this guide, you will find a list of factors you should take into consideration when trying to figure out what kind of bread machine best fits your needs and preferences. Also included is a handy bread machine comparison chart, with links to reviews covering the pros and cons of each brand/model.
How to Choose the Right Bread Machine for You
Here are some factors you should take into consideration when shopping around for a bread machine:
Viewing window. Regardless of how cheap or expensive the model, almost every modern bread machine comes with a viewing window on the lid (Panasonic bread machines are a notable exception). The benefit of having a bread machine with a viewing window is that you can check on the progress without opening the lid. The best bread machines with a viewing window also have a lid heater to ensure even heat distribution inside the machine.
Delay timer. Many popular bread machines have a programmable timer which makes it possible to delay the kneading and baking process by several hours. Thanks to this feature, you can wake up to the wonderful smell of fresh bread in the morning or to come home to a warm loaf of bread at the end of a long day at work. The delay timer is often paired with a keep-warm feature, which ensures a baked loaf of bread stays warm up to about 60 minutes after the end of the baking cycle.
Versatility. The best bread machines offer a wide range of bread and dough programs to choose from, including quick-bake, sweet-bake, whole-grain, gluten-free, pizza dough, and more. Some bread machines even go beyond their call of duty, making thing like marmelade and jam. And then there those customizable bread machines which allow you to create and save your own bread machine programs.
Bread properties. When choosing a bread machine, you'll also want to take into consideration your personal preferences in terms of how you like your bread. Does it matter how dark or light the crust is? If it does, buy a model that features a crust color setting for choosing light, medium or dark crust. Do you prefer traditional horizontal loaves or tall, vertical ones? Most bread machines produce tall, vertical loaves, but there are also bread machines that make horizontal loaves. Or, do you hate that familiar hole bread machines leave in the bread when the kneading paddle is removed from the baked loaf? Then, you should probably get a bread machine with a collapsible paddle.
Comparison of Popular Bread Machines (Plus Reviews)
Once you have a good idea of what kind of features you want your bread machine to have, it's time to start evaluating the different options out there and read some reviews of best-selling bread machines and other popular models. Here's a handy comparison table that helps you do just that:
| Bread machine | Viewing window | Delay timer | Special programs | Also noteworthy | Review |
| --- | --- | --- | --- | --- | --- |
| Breville Twin Paddle Bread Maker (VBM015) | Yes | Yes | Whole-wheat, gluten-free, custom loaf, etc. | Dual blade; 3 loaf sizes | Review |
| Oster Bread Machines | Yes | Yes | Whole-wheat, dough, bake-only, etc. | Crust color settings | Review |
| Panasonic SD-YD250 & SD-RD250 (for US residents) | No | Yes | Whole-wheat, gluten-free, jam, custom loaf, etc. | Crust color settings | Review |
| Panasonic SD-ZB2502 (for UK residents) | Yes | Yes | 100% rye, gluten-free, jam, bake-only, etc. | Extra scratch-proof pan with diamond-fluoro coating | Review |
| Zojirushi Virtuoso/Supreme | Yes | Yes | Custom loaf, whole-wheat, gluten-free, jam, etc. | Horizontal loaf, dual blade, lid heater, 3 crust options | Review |
| Andrew James Bread Maker | Yes | Yes | Custom loaf | Sold in the UK, automatic nut and raisin dispenser, 3 crust settings | Review |
Last update: April 2017