Weekly Smoothie Challenge
Berry Berry Good Superfood Smoothie
2 Servings
All of the key ingredients in this berry smoothie – including blueberries, tart cherry juice and acai berry powder – are famous for their exceptionally strong antioxidant properties. The potential health benefits of this super-smoothie are further boosted by the addition of chia seeds, one of the best plant-based sources of omega-3 fatty acids.
The Tweak It! section at the bottom of this page provides ideas on how to create a new super-smoothie sensation for every day of the week (replace the tart cherry juice in the original recipe by one of the other ingredients in the Tweak It! table).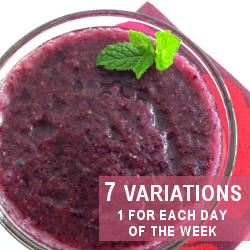 Ingredients
1 small organic banana
1 cup blueberries
1 Tbsp acai powder (buy it here)
2 tsp chia seeds
Scant 1/2 cup crushed ice
1 1/2 cups tart cherry juice
Honey, to taste
Directions
Peel the banana and break it into large chunks. Rinse the blueberries under cold running water.
Place the banana, blueberries, acai berry powder, crushed ice and tart cherry juice in a blender. If the blender you're using has been designed to handle whole ice cubes, you can also use eight ice cubes instead of 1/2 cup crushed ice.
Secure the lid, and blitz until smooth, about 1 minute.
Check the flavor and consistency. If the smoothie is too thick or not sweet enough, add a little bit of water or honey, and blend a few more seconds.
Pour into glasses and garnish as desired. Serve immediately.
Tip: Enjoy a slightly different version of this Superfood Smoothie every day the rest of the week by replacing the tart cherry in the original recipe with the substitute ingredients listed in the Tweak It! section below (see Days 2 to 7).
Tweak It!
Day 1
Day 2
Day 3
Day 4
Day 5
Day 6
Day 7
1 ½ cup
cherry juice
1 ½ cup
freshly-pressed orange juice
1 ½ cup
freshly-pressed pineapple juice
1 ½ cup
cooled rooibos tea
1 ½ cup
guava nectar
1 ½ cup
passionfruit juice
1 ½ cup
organic apple juice