What to Do with a Lot of Pitted Dates: Ideas & Healthy Recipes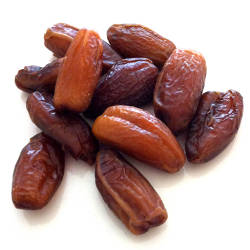 Dried dates are often called nature's candy, ready to be eaten raw as is, but if you have a lot of pitted dates, you probably don't want to eat all of them straight out of the bag. The good news is pitted dates are a versatile ingredient, and there are tons of healthy ways to use up a large amount of dates. Here are 8 things you can do with pitted dates:
Make Date-Sweetened Porridge
Porridge sweetened with chopped dates makes a hearty breakfast that will give you plenty of energy for the rest of the day, plus a great deal of vital nutrients. To make this healthy breakfast dish, all you need is steel cut oats (or any other type of porridge grain), water, salt, pitted dates, cinnamon, and dried fruit and nuts of your choice for topping the dish. Here's our date-sweetened porridge recipe for two:
Pour 3 cups of water in a heavy-bottomed pot, and add a pinch of salt. Bring to a boil.
Add 1 cup of oats and a small handful of chopped pitted dates. Stir and cover.
Let the mixture simmer until all liquid is absorbed. If you are using steel-cut oats, this should take around 10 to 20 minutes. If you are using something else, see Cooking Times for Different Porridge Grains.
Pour in bowls, and top with cinnamon, dried fruit and nuts.
Use Pureed Dates to Make Healthier Cakes, Brownies and Cookies
If you like to bake and have a lot of pitted dates waiting to be used, you might want to experiment with using pureed pitted dates as a sweetener and thickener in baking. For example, if you want to make healthier cakes, brownies or cookies, try substituting pureed dates for some of the sugar and butter in the recipe. It may take a fair amount of practice to get the substitution ratios right, but in the end, your baked goods will be healthier. If you don't like experimenting in the kitchen, you might want to get a copy of Carla Kelly's cookbook Quick and Easy Vegan Bake Sale which contains a number of tried-and-true recipes featuring pureed dates.
Try Recipes for Date-Based Raw Food Pies
Another thing avid bakers might want to do with their extra pitted dates is use them to make healthier pies. Not only do pitted dates make a great binder for raw food pie crusts, they also frequently pop up in raw recipes for pie fillings. For raw food pie and tart recipes that use dates both in the crust and the filling, check out the timeless raw food cookbook Ani's Raw Food Kitchen. Within the pages of this fascinating cookbook, you will find several date-based pie recipes such as Pecan Chai Pie on Cashew Crust, Autumn Pumpkin Pie, and All-American Apple Pie.
Use Dates to Make Healthier Chocolate Truffles
If you love chocolate, one of the best things you can do with an abundance of pitted dates is to make chocolate truffles that contain no unhealthy refined ingredients like white sugar. There are a lot of different chocolate truffle recipes that use dried dates, but the most basic recipe only calls for three ingredients: pitted dates, soaked and drained nuts, and raw, unsweetened cacao powder. Here's the recipe:
In a small but powerful food processor, puree 1 cup soaked and drained cashews or other similar nuts, 1 cup pitted dates, and 1/4 heaped cup raw cacao powder.
Add the pitted dates. Keep processing until you get a smooth mixture.
Form the mixture into balls about 1 inch in diameter, and roll the balls in raw cacao powder.
Refrigerate the truffles for at least an hour before serving.
Use Dried Dates to Make Energy Bars
Dried dates are a key ingredient in homemade energy bars as they provide both sweetness and stickiness. If you need a lot of ideas on how to use pitted dates in energy bars, check out Power Hungry: The Ultimate Energy Bar Cookbook, which has tons of recipes featuring dates. Or, simply use your imagination and the following basic recipe for date-packed energy bars to get you going:
Process 1 part nuts, 1 part pitted dates and 1 part other dried fruit in a food processor until you have a smooth, thick mixture.
Transfer the mixture to a tray lined with parchment paper, and press it until it forms a thick square. Wrap and let chill in the fridge overnight.
Transfer the chilled square to a cutting board, and cut into bars. Serve immediately or store in the fridge.
Use Pitted Dates in Smoothies
It may not be the best way to use up a lot of dried dates all at once, but popping a few pitted dates into a blender when you are making a smoothie is a great way to add sweetness to your drink. Dried dates are a particularly good addition to green smoothies which are often naturally less sweet than regular fruit smoothies. When using pitted dates in smoothies, keep in mind that dried dates are intensely sweet, so a little goes a long way.
Turn Dried Dates into Date Sugar
Did you know that you can use your date sugar as a substitute for regular sugar in many recipes for baked goods? If you like the idea of using this whole food sweetener in baking, the easiest thing to do is buy some date sugar online. Unfortunately, however, date sugar can be quite expensive. The good news is that you can also make your own date sugar from whole, pitted dates. Here's how it's done:
Freeze the Rest
If the recipes and ideas above didn't help you use up all the dried dates you have on hand, you might want to freeze whatever is left and use the frozen dried dates later in smoothies etc. Both dates and date paste freeze well, and freezing them is easy as pie: If you are freezing whole dates, simply without losing much of their texture. To freeze Medjools, simply pack them in freezer-safe bags or containers, and pop the bags or containers in the freezer. To freeze date paste, use an ice cube tray to pre-freeze the paste in individual portions, and once frozen, transfer to freezer bags for storage.
Sponsored Links / Ads
Don't Miss This

Muffin Pans Without Teflon: 3 Pans Worth Checking Out
Check out these alternatives to non-stick muffin pans if you don't like Teflon.
More to Explore