Anti-Polyp Soup Recipes for a Healthy Colon
Wondering how to create enticing soups that also accommodate the nutritional requirements of people who have an elevated risk of developing colon polyps? This section provides a rainbow of anti-polyp soup recipes that are naturally rich in polyp-fighting nutrients such as magnesium, betacyanin, quercetin, gingerol, and curcumin. But before your get your apron on, you might want to check out the diet section (Diet for the Prevention of Colon Polyps) and the food section (Foods That Help Prevent Colon Polyps) in order to understand the basics of how certain dietary habits and foods can help prevent colon polyps.
Apple and Onion Soup
6 servings
This recipe combines apples and onions, two of the best natural sources of the bioflavonoid quercetin. Quercetin has shown promising potential for preventing and controlling the formation of intestinal polyps.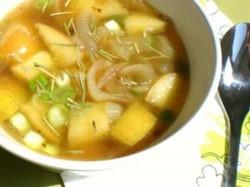 Ingredients
1 tbsp canola oil
2 medium yellow onions, sliced
1 small leek, chopped
1/2 tbsp fresh rosemary, chopped
1/2 tbsp fresh thyme
3 organic apples, cut into small dices
6 cups fat-free, low-sodium vegetable broth

Directions
Heat oil in a medium saucepan over medium heat. Add onions and sauté until golden. Pour in the broth and bring to boil over medium-high heat. Add apples, and reduce heat to medium-low. Simmer for 10 minutes. Season with salt and pepper, if desired. Ladle into soup bowls and serve.
Beet and Carrot Soup
Serves 4
This recipe combines beets and carrots to create a beautiful crimson soup that also helps prevent colon polyps. The fiber found in abundance in beets and carrots reduces the time the stool spends in the intestines, thereby limiting the colon's exposure to potential carcinogens. In addition, several studies have shown that betacyanin, a phytochemical compound responsible for beets' intense purple color, is highly effective at fighting cancer, particularly colon cancer.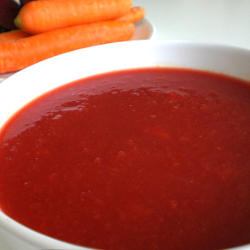 Ingredients
3 medium beets, peeled and diced
1 tbsp canola oil
1 cup onion, chopped
1 pound carrots, diced
1 tbsp fresh ginger, minced
1 garlic clove, minced
1.4 litres (6 U.S. cups)
vegetable stock

Directions
Heat oil in a large saucepan over medium heat. Sauté onion until golden brown. Add ginger and garlic and cook for 2 minutes, stirring frequently. Add beets, carrots, and stock. Reduce heat to low and simmer covered until beets and carrots are tender, about 25 minutes. In a food processor, purée soup in batches. Taste soup and adjust seasonings. Serve hot or cold, garnished with cilantro leaves.
Curried Carrot Soup
6 servings
This hearty carrot soup is seasoned with curry and ginger, both of contain compounds that have been shown to maintain a healthy colon. Curry contains a compound that can identify potential cancer cells by their abnormal chemistry and consequently induce self-destruction of these harmful cells – without damaging healthy cells. Gingerol, the main active compound in ginger, has been shown to reduce both the size and number of tumors in test animals.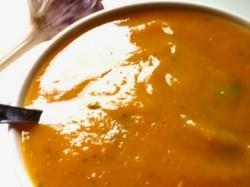 Ingredients
1 Tbsp canola oil
1 large yellow onion, coarsely chopped
1 clove garlic, smashed
2 tsp curry powder
1 1/2 pounds organic carrots, unpeeled but scrubbed, sliced into 1/4-inch thick rounds
1/2 inch piece fresh ginger, peeled and finely chopped
3 cups low-sodium vegetable broth

Directions
Heat oil in a medium saucepan over medium heat. Add garlic and curry powder, and cook about 30 seconds, stirring constantly. Add carrots, onion, ginger, onion, and broth, and bring to boil over medium high heat. Reduce heat to medium-low, and simmer until carrots are tender (about 20 minutes) Working in batches, purée soup in a blender or use an immersible hand blender to blend soup until smooth. Serve hot or cold.
Dairy-Free Spinach Soup
4 servings
Listen to Popeye and eat your spinach! The nutritional profile of spinach makes it an excellent health food and an important vegetable for anyone concerned about colon polyps. Spinach is considered one of the best vegetables for the entire digestive tract, and it is thought to be highly effective at cleansing and regenerating the intestinal tract. One of the gut health promoting compounds contained in spinach is magnesium which appears to be necessary for proper bowel movement. Mild deficiencies of magnesium are relatively common in Western countries, where consumption of processed foods is common, as processing can significantly decrease the magnesium content of foods. Ingredients
10 oz fresh spinach
2 tbsp olive oil
1 yellow onion, chopped
4 cups vegetable stock
3 tbsp corn starch
Dash of ground nutmeg
Salt to taste
Optional: chopped fresh chives, for garnish

Directions
Wash spinach thoroughly. Drain and chop coarsely. Heat olive oil and sauté onion in a large saucepan until golden brown. Add stock and spinach, and bring to a boil. Cook until spinach is tender. Blend with a hand held blender until smooth. Put two tablespoons of flour into a small bowl and add just enough warm to dissolve the flour. Use a small whisk to mix flour with water until you have a runny paste. Add half a cup of warm water to the bowl and mix. Pour mixture into saucepan and whisk to blend thoroughly. Let simmer on low to medium heat for a few minutes, until thickened. Season with nutmeg and salt. Remove from heat. Pour soup into serving bowls and garnish with chopped chives, if desired. Serve immediately.
Want More Polyp-Fighting Recipes?
For more recipes that can help prevent colon polyps, visit the main recipe directory of HealWithFood.org's Guide to Preventing Intestinal Polyps.