Weekly Smoothie Challenge
Berrylicious Raspberry-Rooibos Smoothie
2 Servings
Chilled rooibos tea makes a delicious base for smoothies. Unless you're a fan of brown smoothies, it is best to blend rooibos tea with yellow, orange, purple or red ingredients and to leave those greens for other smoothies. In this smoothie, we combine chilled rooibos tea with red raspberries, banana and orange to create an intriguing blend that is pleasing both to the eye and the palate. Chia seeds are thrown into the mix for an added health kick.
At the bottom of this page you'll also find the beloved Tweak It! box, designed to inspire you to tweak the basic recipe to create a new berrylicious smoothie experience for every day of the week!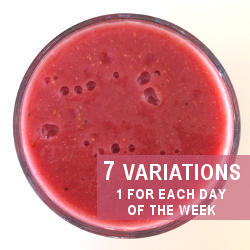 Ingredients
3/4 cup organic raspberries (fresh, or frozen and slightly thawed)
1 small organic banana
1 small orange
2 tsp chia seeds
1/2 cup crushed ice
1 1/2 cups chilled rooibos tea
Honey (optional)
Directions
Rinse the raspberries under cold running water, and peel the banana and orange.
Place the raspberries, banana, orange, chia seeds and crushed ice in a large-capacity blender, and pour the chilled rooibos tea over them. Secure the lid, and blend until smooth, about 1 minute.
Check the flavor and consistency. If the smoothie is too thick or not sweet enough, add a little bit of water or honey, and blend a few more seconds. Pour into glasses and serve immediately.
Tip: Enjoy a new variation of this Berrylicious Raspberry-Rooibos Smoothie every day the rest of the week. To do this, simply replace the orange in the original recipe with one of the other ingredients listed in the Tweak It! box below (see Days 2 to 7).
Tweak It!
Day 1
Day 2
Day 3
Day 4
Day 5
Day 6
Day 7
1
orange
1 cup
halved apricots
1 cup
pitted cherries
5 oz
papaya
6
passionfruits
1
blood orange
5 oz
fresh pineapple