7 Ways to Use Leftover Almond Pulp
Not only is homemade almond milk delicious, it is also easy to make. But if you've ever made almond milk at home, you know the process can leave you with a lot of almond pulp. The great thing is that there are tons of different ways to use almond pulp from making almond milk, so nothing goes to waste! Here are ideas on how to use leftover almond pulp, plus a bunch of mouthwatering almond pulp recipes.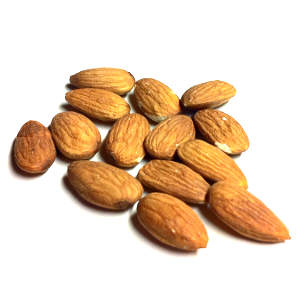 1. Turn Leftover Almond Pulp into Gluten-Free Breadcrumbs
Did you know that almond pulp also makes great gluten-free breadcrumbs that can used in almost any recipe that uses breadcrumbs as a topping, binder or breading? To turn leftover almond pulp into gluten-free breadcrumbs, simply spread the pulp onto a parchment-lined baking sheet and dry at a low temperature in the oven or a food dehydrator. It's as simple as that!
2. Make Almond Pulp Hummus
Yet another good way to use up a lot of leftover almond pulp is to use it to make a batch of creamy, savory hummus that you can spread on your favorite bread or serve as a dip with fresh vegetable matchsticks. Most recipes for almond pulp hummus simply replace some of the mashed chickpeas with almond pulp, but you can also skip the chickpeas altogether! If you need a tried-and-tested recipe for chickpea-free hummus, you might want to get a copy of the cookbook Everyday Detox in which Certified Nutritionist Consultant (CNC) and health coach Megan Gilmore shares her amazing recipe for chickpea-free almond pulp hummus.
3. Use Almond Pulp to Make Energy Bites
Yet another great way to use leftover almond pulp is to use it in recipes for energy bites. Not only are almond pulp energy bites quick and easy to make, they are also the perfect pick-me-up on the go. Check out Melissa King's Grain-Free Almond Pulp Energy Bites in her much-praised cookbook DIY Nut Milks, Nut Butters, and More: From Almonds to Walnuts. Or, try this super-easy recipe for almond pulp energy bites:
In a high-powered blender or food processor, blend 3/4 cup of soft, pitted dates until they turn into a paste. You may have to stop to scrape down the sides of the food processor a few times.
Add 1 3/4 cups of leftover almond pulp, along with 5-6 teaspoons of unsweetened cacao powder. Blend until well combined.
Transfer to a bowl and mix by hand for a minute until it all comes together, adding a little bit of water or coconut oil if necessary.
Form the mixture into balls about 1 inch in diameter, and roll the balls in unsweetened cacao powder. Refrigerate for at least an hour before serving.
4. Add Almond Pulp to Homemade Smoothies
Adding a tablespoon or two of fresh almond pulp to smoothie recipes is a great way to add some extra protein and fiber to homemade smoothies. If you have a lot of leftover pulp from making almond milk, you may also want to freeze some of the almond pulp in ice cube trays and transfer the frozen cubes into freezer bags for storage. You can then grab a few cubes from the freezer whenever you think your smoothies could benefit from some nutty goodness.
5. Make Raw Almond Pulp Freezer Fudge
Traditionally, fudge is made from sugar, butter and milk, but you can also make a healthier version by using almond pulp and a few other surprising ingredients! Almond pulp fudge is also perfect for those following a raw food diet because you don't have to heat the ingredients. There are tons of elaborate recipes out there for homemade nut pulp fudge using almond pulp, but if you're not interested in complicated recipes, here's a simple almond pulp fudge recipe for you to try:
In small food processor, grind 1/2 cup of old-fashioned oatmeal into fine flour. Add 1 cup of pitted Medjool dates or regular dates, and process until the oatmeal flour and dates form a smooth, sticky mixture.
Add 1/2 cup of fresh almond pulp left over from making almond milk, along with 6 tablespoons of unsweetened cocoa powder, 3 tablespoons of dried coconut, and 2 tablespoons of honey. Process until thoroughly mixed.
Line a glass baking dish with wax paper, and press the mixture into the dish. Place in the freezer for a couple of hours, until hardened.
Remove the frozen fudge from the dish and cut into squares. Enjoy!
6. Incorporate Almond Pulp into Your Breakfast
A healthy breakfast gives you the energy to kick start the day and supplies your body with essential nutrients. If you've got a lot of almond pulp on hand but not enough ideas on what to do with it, why not incorporate some of it into your breakfast? Whether used moist or dehydrated, almond pulp is delicious on top of yogurt and smoothie bowls, but it also makes a tasty addition to breakfast cereals, porridge and overnight oats.
7. Use it to Make Raw Tarts and Pies
You don't have to be a raw foodist to love raw tarts and pies! Not only do they taste amazing, raw tarts and pies are usually extremely easy to make, especially if you have some extra almond pulp on hand! Here's a recipe for a grain-free tart crust that uses leftover almond pulp:
Mix 1 cup of almond pulp and 1 1/4 cups of pitted dates in a food processor until the mixture sticks together.
Press the dough into tart tins lined with cling film, and put in the fridge for 30 minutes. Fill with your favorite raw tart filling.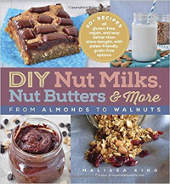 BOOK YOU MAY LIKE
Melissa King's DIY Nut Milks, Nut Butters & More is your all-in-one guide to homemade nutty goodness. Not only is it packed with recipes for homemade nut milks and butters, it also contains recipes for decadent whole-food snacks and desserts that feature nut milks, nut butters, and even leftover nut pulp! Every recipe included in this extraordinary cookbook is gluten-free and vegan, and most of them are grain-free, too. To learn more, or to order your copy of this ultimate guide to nut milks and butters, click here.