Dessert Recipes for Preventing Bruising (1/2)
Tantalize your taste buds with these delicious desserts – they are good for you, too! The recipes featured in this section are packed with nutrients that help prevent excessive bruising.
If you are new to healwithfood.org's Nutrition Guide to Preventing Bruising, you may also want to check out the section on the anti-bruising diet and the overview of the best foods for fighting bruising before getting started with the recipes, though.
Chocolate Sorbet
Serves 4
Scientists have discovered that dark chocolate, which is what this sorbet recipe calls for, contains significant amounts of flavonoids such as catechins and procyanidins. These flavonoids have shown to exert strong antioxidant effects. However, flavonoids lose much of their antioxidant power if chocolate or cocoa is consumed together with dairy. In order to maximize the antioxidant effects of chocolate, this sorbet is made with rice milk and water instead of cow's milk.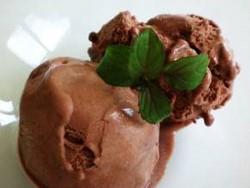 Ingredients
1 cup water
1 cup organic brown sugar
3/4 cup dark cocoa powder
1/8 tsp salt
3 ounces dark dairy-free chocolate, chopped
1 cup rice milk
1/2 tsp vanilla extract
1/8 tsp xanthan gum

Directions
Whisk together water, sugar, cocoa powder, and salt in a small saucepan over medium heat. Bring to a boil, and remove from heat. Add chocolate and stir until chocolate is dissolved. Stir in rice milk and vanilla extract. Transfer to a blender and add xanthan gum. Process for about 1 minute. Pour mixture into an ice cream maker canister and freeze according to the manufacturer's instructions.
Melon and Green Tea Smoothie
4 servings
Thismouthwatering smoothie is perfect for the summer heat, but it is also great for anyone who bruises easily as it contains plenty of vitamin of vitamin C and a good amount of vitamin K, too.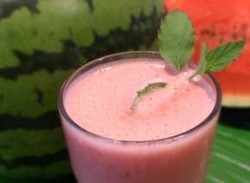 Ingredients
1 1/2 cups honeydew melon, seeded and chopped
1 1/2 cups watermelon, seeded and chopped
1 cup nonfat yoghurt containing probiotic bacteria, cold
1/2 cup brewed green tea, chilled
1 tbsp fresh mint, minced
Lemon juice, freshly pressed

Directions
Combine all ingredients in a blender or food processor and process until creamy. Garnish as desired. Serve in tall glasses.
Rice Pudding with Blueberry Sauce
8 servings
This rice pudding is dairy-free, which ensures that you benefit from the maximum antioxidant capacity of the accompanying blueberry sauce. Blueberries are among the best dietary sources of antioxidants, but consuming milk together with these pleasantly tart berries has been shown to decrease their antioxidant capacity. Ingredients for Rice Pudding
1 cup brown basmati rice
2 cups water
1/2 teaspoon salt
3 cups rice milk
1/3 cup brown sugar
1/2 tsp cinnamon, ground
1 tbsp potato starch
Directions for Rice Pudding
Place rice, water, and salt in a medium saucepan and bring to a boil. Reduce heat to low, cover, and simmer, stirring occasionally, until water is fully absorbed, about 45 minutes. Add rice milk, brown sugar, and cinnamon, and stir well. Continue cooking, stirring occasionally, for 10 minutes. Mix potato starch with a few drops of water in a small bowl and stir into rice mixture. Continue stirring over low heat until mixture thickens and reaches consistency of pudding, about 5 minutes. Remove from heat. Transfer to a large bowl, cover, and refrigerate until cold, about 2 hours. Serve with warm blueberry sauce.
Ingredients for Blueberry Sauce
2 cups (wild) blueberries
1/3 cup sugar
1 tbsp water

Directions for Blueberry Sauce
Crush blueberries in a small pot, and stir in sugar and water. Bring mixture to a boil and simmer for 1 minute. Remove from heat. Serve on rice pudding.
Apple Slices with Cinnamon
Serves 1
This dessert is a cinch to prepare, and it provides plenty of vitamin C and flavonoids which help strengthen blood vessels and thereby reduce bruising.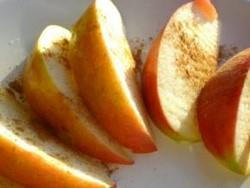 Ingredients
1 medium apple, cored and sliced
1/4 tsp cinnamon, ground

Directions
Place apple slices on a small serving plate. Sprinkle with cinnamon and serve immediately.
Anti-Bruising Chocolate Cake
This flourless chocolate cake with understated layers of flavor has a surprising ingredient: black beans! Black beans are rich in flavonoids, natural compounds that occur in a variety of foods and that can help prevent excessive bruising. Also dark cocoa powder contains flavonoids, including catechins and procyanidins. Ingredients
1 1/2 cups cooked black beans
4 large eggs
1 tbsp mint extract
1 teaspoon stevia
5 tbsp canola oil
1/3 cup honey
6 tbsp dark, unsweetened cocoa powder
1 tsp baking powder
1/2 tsp baking soda
Pinch of salt
Fresh mint leaves, for garnish

Directions
Preheat oven to 350°F (175°C, gas 4). Blend beans, 2 eggs, stevia, canola oil, honey, and mint extract in a blender until completely smooth. In a small bowl, combine cocoa powder, baking soda, and baking powder. Beat remaining 2 eggs in a small bowl. Pour bean batter into egg mixture and mix well. Stir in cocoa powder and beat the mixture on high until smooth. Scrape batter into a greased 9" cake pan and bake at 350 for 35-45 minutes, or until a toothpick comes out clean.
Continue

Want More Anti-Bruising Recipes?
For more recipes that can help control bruising of the skin, visit the main recipe directory of HealWithFood.org's Guide to Preventing Bruising.
For more general information on bruising and nutrition, check out the page Natural Food Remedies to Prevent Excessive Bruising (the home page of this Guide) as well as the section Diet Tips for People Who Bruise Easily. Be also sure to check out the list of Healing Foods That Reduce Bruising.